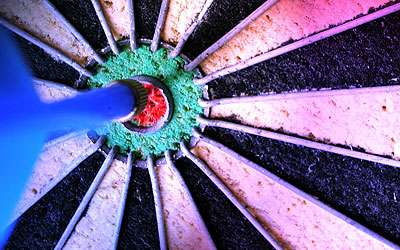 Shot King Bristle Dartboard - Bristle dartboard, staple free bulls eye for less bounce outs, movable number ring for extended life of the board, this board will accommodate both steel and soft tip darts.
Electronic Dart Boards
X-Treme e-board by Great Lakes Darts - This regulation-size electronic dartboard would do any pub (or well-appointed recreation room) proud. Packed with features like voice prompting ("Next player!"), tournament spider (to reduce bounce outs), double in and out, handicapping, and auto-scoring for up to 16 players on 38 different games (Cricket, 301, etc.), the X-Treme should keep even serious throwers happy. Two plastic, faux-wood-grain doors swing out on the 2-foot-tall unit, one that holds the 16 included soft-tip brass darts, the other for the LED scoring system.
3200Q Electronic Dartboard - You can't miss with this electronic dartboard! Featuring computerized scoring for up to 8 players, it does the work while you enjoy 22 different games with 130 level variations. Keep track of each match with a voice announcer, digital sound effects and 5 LED screens, including 2 cricket displays. The board features a 15.5" tournament target area, extra wide catch area and built-in dart holders. Advanced features include dart out calculating, player handicapping, quick-pick game launch, game guard, computer opponents and more. Set includes 12 soft-tip brass darts, 40 spare tips, instruction manual and 110V AC adapter.
Dart Tips and Techniques
How to Play Winning Darts - The author: "Heed the introductory pages and you can quickly and easily improve your dart game. True, some of the book is common knowledge. Yet, it contains more new and unique tips and techniques than all other dart books combined-in or out of print. I felt quality was vital and quantity secondary. One good tip could turn your game around completely."
Rules of Darts
Become Your Darts - An illustrated guide to the game of darts from the history of darts, how the game is played, influences in the game of darts, how darts are made and other aspects of the sport. Fully illustrated, this book will guide even the most novice of players with facts and pictures covering the entire sport of darting.