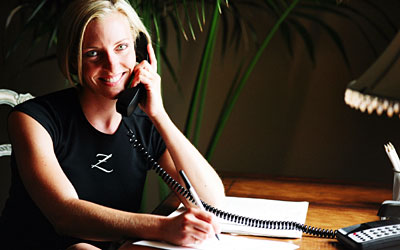 Amcat has formed a Customer Care Division in order to better focus on its customers and to bring new innovations to this critical area. This newly created division, led by Les Reed, is the central point of contact for all customers from the moment that they begin a project with Amcat. The mission of the Amcat Customer Care Division is to ensure that all customer needs are being met in a timely and efficient manner on a consistent basis. The advantage for Amcat customers is that all operations that impact service -- implementation, support, education, professional services, and account management -- have a single mission and are under the umbrella of one united group.
As Director, Reed is responsible for ensuring all departments are providing seamless, superior customer service throughout the customer's entire Amcat experience - from sales through implementation, training and education, and professional services. Reed is currently working to create transparency between all departments to assure any action performed within the organization is of direct value to the customer.
"Because Amcat has benefited from a solid and loyal customer base for more than 13 years, we recognize our customers as key stakeholders in our business and understand they are critical components to Amcat's success," said Richard Costello, Amcat president. "In addition to our focus on software excellence, we are extremely sensitive to how ongoing services and customer communication is vital for the growth of our customers. We know that contact centers play a vital role in our customer's ongoing business model, and Amcat will be there with our customers to help ensure their success. To that end, we have recently restructured our organization to guarantee that all departments contribute to the success of the Customer Care Division. In addition, because of Les Reed's most recent accomplishments in the areas of process improvement and quality assurance, he was the natural choice to lead the Customer Care Division."
Prior to joining Amcat, Reed was Outreach Specialist for General Atomics supporting the Process Improvement and Quality Assurance Division at the Oklahoma City Air Logistics Center. In this role, Reed worked with the Air Force Materiel Command and Department of Defense to facilitate effective communication and demonstrate the benefits of process improvement initiatives and goals when conducting business.
Reed's previous experience also includes sales management roles with Amcat and two voice and pager companies within the wireless industry. Reed holds a Bachelor of Arts degree in Mass Communication from Oklahoma Christian University.
"I'm excited to be working once again with Amcat," said Les Reed, director of the Customer Care Division. "As a position that reports directly to the president, I take this new role and our goal to set new standards in world- class customer care seriously. Amcat has always considered itself more of a partner, than a vendor, to each of its customers, and the division will deliver world-class customer care by developing a team that works smarter, more efficiently and understands all levels of our customers' business. Whatever we've done well in the past, there's always room to improve processes and do things better the next time. By conscientiously following this principle, we are certain to achieve world-class performance."
Amcat (now Noble Systems) provides intelligent contact center solutions that increase productivity, agent professionalism, and campaign management flexibility.