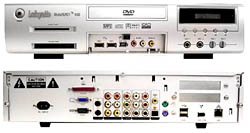 Video Without Boundaries demonstrated its breakthrough MediaReady 4000 convergent Internet/DVD Player to OEM manufacturers at Computex Taipei 2003. The MediaReady 4000, one of the world's first integrated consumer set-top devices, combines popular media entertainment options including DVD MPEG-1 MPEG-2 MPEG-4 playback, feature-rich television, email, web surfing, karaoke, CD/MP3 playback and more, with an open source, Linux-based architecture that allows it to support virtually any kind of OEM configuration or upgrade.
Video Without Boundaries' MediaReady 4000 has partnered with Lung Hwa Electronics Co., Ltd., a leading worldwide consumer electronics equipment manufacturer, to produce the convergent device.
"We believe the MediaReady 4000 will re-define the nature of home entertainment for millions of consumers worldwide," said Jeffrey Harrell, President of Video Without Boundaries. "People are clearly ready for a simple, unified way to manage and integrate all their various digital entertainment devices. The MediaReady 4000 is a one-stop entertainment choice that can serve as the platform for a wide array of equipment possibilities."
Defining the power of Video Without Boundaries' MediaReady 4000 is its on-board PC components and connection options. A disk drive storage unit, Ethernet 10/100BT wired and wireless connections, and USB 2.0 and 1394 hookups enable the MediaReady 4000 to store and/or access music, movies, TV programs, photos -- virtually any form of digital entertainment -- either from its integrated storage sources, or via one or more PCs located on a home network.
MediaReady 4000 supports the downloading of music, karaoke, and video titles from the Internet for playback on a television or home theater system. A convenient browser interface, full-sized wireless keyboard, and wireless remote control make navigation easy.
Similar in size to a standard DVD player, the MediaReady 4000 offers 5.1 Surround Sound, picture-in-picture capability, karaoke microphone jack, microphone, and other popular features.
"The open architecture of the MediaReady 4000 makes it a highly attractive private-label opportunity," said Peter Pai, Chairman and CEO of Lung Hwa Electronics. "Marketers and retailers can customize and configure the MediaReady 4000 to fit specific market niches or regional sales opportunities. Its Linux platform and USB 2.0 connection also means the MediaReady 4000 can accommodate many types of consumer electronics aftermarket software and hardware."
The MediaReady software platform integrates both consumer electronics chip-based media functionality as well as PC motherboard technology supporting IP-based applications, software upgrades, and full-screen, DVD-quality IP media streaming and playback.
Video Without Boundaries provides interactive, media-convergent home entertainment devices.