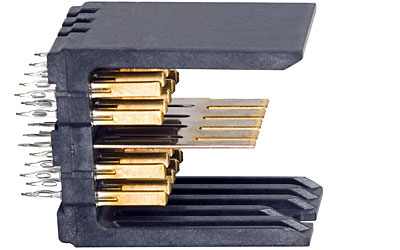 Teradyne Connection Systems Division (TCS), the industry leader in high-performance connection systems, today announced the launch of its GbX 2-pair connector, uniquely suited for designs with tight slot pitch constraints, such as those in the expanding blade server market.
Designed for high performance within a small footprint, Teradyne's GbX 2-pair connector features 27.5 real differential pairs per linear inch to fit compactly into a 15mm slot pitch. The GbX connector delivers excellent electrical performance and provides enhanced signal integrity with 100 Ohm matched differential impedance and crosstalk under 5 percent at a 50 pico second rise time (20-80%). The connector's modular design allows for easy configuration in conjunction with low-speed signals, guidance and power modules.
"Designers will be able to boost bandwidth and have increased flexibility using the modular, space-saving GbX 2-pair connector in their new platforms," said Colleen Murphy, GbX Product Manager at TCS. "In addition, GbX 2-pair can help to lower overall system costs by reducing PCB layer counts and is scaleable for future system upgrades."
The unique stainless steel rear organizing stiffener and wafer construction permits easy customization of daughtercard connectors using any combination of Teradyne's GbX product family and leverages proven technology for high levels of mechanical reliability. The GbX 2-pair connector features excellent routability out of the connector in one layer on backplanes and two layers on daughtercards, reducing the number of signal layers required. An extra ground and a unique optimized footprint minimize crosstalk.
Teradyne's GbX 2-pair and GbX L-series connectors extend the scalability of the GbX family of high-speed backplane interconnect products from Teradyne and are uniquely designed to meet European
Teradyne Connection Systems Introduces 2-Pair Version of GbX Connector Platform 2/2 packaging standard IEC 917-2-2 International Standard, Part 2, Modular Order for the Development of Mechanical Structures for Electronic Equipment.
In addition to the 2-pair configuration, the GbX product family includes 3, 4, and 5-pair versions with density up to 69 differential pairs per linear inch, as well as power, and grounded guidance. An L-Series version for low speed signals is available in the 2-pair, 3-pair and 4-pair configurations.
Teradyne's GbX 2-pair connector is now available at approximately $.12 - $.18 per mated signal line in full production volumes for standard differential components.
Teradyne supplies Automatic Test Equipment and interconnection systems. The company's products deliver competitive advantage to the world's leading semiconductor, electronics, automotive and network systems companies.