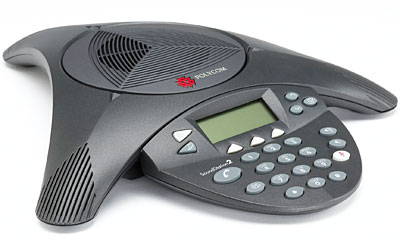 Polycom's SoundStation 2 is the next generation of its line of triangular-shaped conference phones. The system has twice the loudness and 50 percent better microphone pick up than the original Sound Station, enabling high quality conferencing for everyone on the conference call.
"December 2005 marks Polycom's 15-year anniversary and it is fitting that we kick off the celebration by updating the immensely popular product line that started it all -- the SoundStation," said Polycom co-founder Jeff Rodman. "It was 1990 that we began designing the Sound Station in my basement and so created a new category of business-quality conference phones. In the 15 years since then, the phone has become one of the most recognized products in the business world, while Polycom itself has transformed from a voice conferencing leader into the leading unified collaborative communications company delivering converged voice, video, web and data solutions. The Sound Station 2 is a leap forward for Polycom voice clarity and gives customers a new standard for conference phone quality and performance."
Since launching the original Sound Station in 1992, Polycom has shipped more than 1.7 million units, received numerous industry awards for the original's breakthrough quality and patented design, and seen it become the undisputed standard for business quality voice conferencing in meeting rooms around the globe. The newest edition, the SoundStation 2, delivers dramatically improved voice quality, provides the ability to talk up to ten feet away in a normal voice and still be heard clearly, and adds new features including a backlit LCD display, international Caller-ID, an address book for speed dialing and a cell phone connector.
"Polycom defined voice conferencing quality with its Sound Station line and is setting the bar higher with the new Sound Station 2," said Roopam Jain with Frost and Sullivan. "The advancements in Polycom's microphone technology ensure a dramatic improvement in the quality and clarity of a call and make voice conference calls much more natural, like being in the same room with the people on the other end."
"The Sound Station 2 is unlike any speaker phone I have ever used," said Jim Wolf of Whirlpool. "After using the phone for a few days, I found that I couldn't live without it and carried it between home and the office so I could use it for calls after normal work hours. The voice quality is superb and we no longer have to repeat ourselves during a call, which makes meetings run much smoother. I would highly recommend the phone for every conference room and office."
The conference phone is based on 12 years of market-leading Polycom Acoustic Clarity Technology, which offers crisp voice quality and natural two-communication (full duplex) delivered through high-performance speakers and finely tuned microphones that offer 360-degree room coverage. With twice the loudness and 50 percent better microphone sensitivity than the original Sound Station, the Sound Station 2 delivers a more productive voice conferencing experience.
The product has a feature-rich graphical LCD and intuitive interface with a back-lit display that provides convenient, easy access to important call information -- phone number, number called, duration/progress of call and Caller ID. Easy to use telephony features -- 25 entry-phone book, conferencing, mute, and hold -- eliminate user confusion and need for training.
The unit has multi-language support of up to seven different languages on the display for international customers.
"We are very proud of the widespread adoption of the Sound Station line and are sure customers will be impressed with the new quality, features and overall performance of the next-generation Sound Station 2," said Sunil Bhalla, senior vice president and general manager of voice communications at Polycom. "Our focus at Polycom is to provide solutions that make remote meetings as natural, effective and productive as being there. The Sound Station 2 is another example of this focus and sets a new standard for business-quality voice conferencing."
The SoundStation 2 is the latest in a line of next-generation conference phones from Polycom, which also includes the Sound Station 2W, the first wireless SoundStation conference phone; the Sound Station IP 3000 standards-based VoIP conference phone; and the revolutionary Sound Station VTX 1000 wideband conference phone with high fidelity sound and microphone capabilities.
The system has a suggested retail price of $599.
Polycom provides video, voice, data and web conferencing and collaboration solutions.