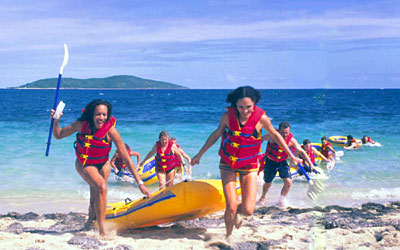 IslandQuest Vacations is launching a new vacation package that marries travel and entertainment to satisfy the millions of travelers looking for an engaging, competitive twist to a typical Caribbean vacation. An IQ vacation is a series of games or "quests" where guests go head to head in team and individual competitions for cash and prizes while having the island experience of a lifetime.
You don't need to be an Olympic athlete or have a genius IQ to succeed in these games. IQ Vacations prerequisites are a competitive spirit, a thirst for adventure and a passion for extraordinary experiences. Teamwork, strategic thinking and a willingness to get into the game is all it takes to compete and win. Games are played either on the island of St. Croix or aboard Royal Caribbean's largest ship, "The Adventure of the Seas" and in the ship's Caribbean ports of call. Thrill seeker and "Survivor 2" star, Amber Brkich, is an equity stakeholder in the company and host to many of the games.
"Our mission is to provide vacationers with the competitive thrill of a lifetime," said Brett West, founder of IslandQuest Vacations. "Americans are born travelers and they love smart fun. What we've done is combine the best elements of sportsmanship, spontaneity, teamwork and detective work to create dynamic Quests in idyllic settings. IQ is definitely the antidote to the ordinary vacation."
How it works
Vacationers are assigned to teams of up to eight people each. Players participate in two "quests" or games a day. The object of the games is to amass the most points. The grand-prize winner at the end of the week-long competition can win as much as $7,000.
Each individual "quest" offers a once-in-a-lifetime experience ... together, they make up a blockbuster vacation. Some samples of our quests include:
GPS 4x4 Rally . . . The clock is ticking as a team of four players navigates a 4x4 vehicle around Aruba or St. Croix in an exotic scavenger hunt. Armed with a digital camera, the team must develop a plan to locate and photograph island hot spots with only a limited map and a handheld GPS [global positioning satellite] unit for guidance.
America's Cup 12-Metre Challenge . . . This world-class adventure takes place in St. Maarten aboard an actual America's Cup sailing vessel. Whether an experienced sailor or a nautical novice, players work together with a seasoned Captain in a spectacular race to the finish.
Marketplace Maze . . . A player better have an eye for detail when shopping Kasbah-style through myriad arcades in Christiansted, St. Croix. This quest demands the skills of a sleuth to decipher clues and search for hidden signs in the back alleys of this historic district.
Diving for Dinero . . . Magen's Bay, St. Thomas was named one of the most beautiful beaches in the world by National Geographic Magazine. Here players don snorkel and fins and race against time in search of pirate treasure from fabled sunken galleons.
IslandQuest Vacations is the first and only travel company that offers competitive vacation games with cash prizes.