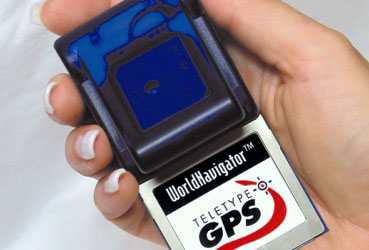 The WorldNavigator GPS receiver from TeleType allows travelers to navigate worldwide, in-vehicle, while walking, on a boat, or even in an airplane; using a completely integrated device, eliminating cumbersome wires. In addition, the WorldNavigator doubles as a real time tracking device. Using the WorldNavigator, it is possible to track the location of family members, emergency service personnel, delivery vehicles, or high profile executives, from the convenience of your Pocket PC. Automated voice prompts are also present as a feature, which supplies the driver with turn-by-turn instructions, allowing the driver to always concentrate on the task at hand, whether it be driving, or flying.
"We are thrilled to be able to offer the GPS market a truly portable GPS device, one that can be used in-car, while walking around the city, and then the possibility to hop into a boat or plane, and still be able to have full navigational functionality, along with real time tracking. The WorldNavigator has truly made that possible" said Ed Friedman, President of TeleType.
The TeleType WorldNavigator boasts such features as 12 channel parallel, Sirf II GPS chip set, WAAS capable, therefore being the latest in GPS technology. TeleType also offers an option for an external antenna, increasing the range and functionality of the WorldNavigator GPS system. The TeleType WorldNavigator fits in both Type I and Type II Compact flash slots, making it compatible with all Pocket PCs. The WorldNavigator is truly useable world wide, as it includes 6 different languages for international users.
TeleType's WorldNavigator and GPS Software offers users true mobility, with compressed maps stored on convenient Compact Flash cards; it is possible to use the Wireless GPS realistically. Other systems would not be able to process such wide range of maps without having several shortcomings, including the rapid depletion of storage card space. Unlike other GPS software, which require the painstaking process of downloading individual maps one by one, the TeleType GPS Software includes street level maps for the entire United States. It is the only program that allows for true coast-to-coast routing directly on a Pocket PC handheld.
"Pocket PC has a great advantage in the marketplace because it is designed to be the most connected and expandable PDA available," said Derek Brown, Product Manager for the Mobility Division at Microsoft Corp. "A product like the TeleType WorldNavigator allows users to take advantage of some of the key functionalities of the Pocket PC and provides a great example of true mobility."
The TeleType WorldNavigator has been designed especially for use with all types of Pocket PCs, and laptops on the market. Included with the WorldNavigator is the TeleType GPS software and street level maps for the entire United States, allowing real time position to be accurately shown.
Teletype products create a unique solution for land, air, and water navigation; as well as the expanding of tracking to support additional emerging technologies for GPS solutions based on satellite communications and two-way paging.