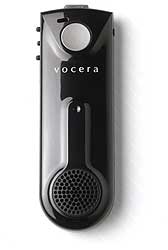 Vocera Communications has added push-to-talk capability to its instant, hands-free, voice-controlled communications system with today's announcement of the Vocera System Software Version 2.1. In addition, Vocera is debuting voice-initiated paging, text-to-speech message playback, and new enterprise administration features.
The Vocera Communications System enables mobile workers within buildings or campuses to instantly connect with one another using simple voice commands. Combining the leading-edge technologies of Wireless LAN (WiFi), Voice over IP (VoIP), and speech recognition, the system allows users to communicate, make decisions, and act quickly anytime, anywhere within an 802.11b networked facility. The Vocera System consists of the Vocera System Software and Vocera Communications Badges. The Badge, weighing less than 2 ounces, can be clipped to a shirt pocket or collar, or worn on a lanyard, enabling instant, hands-free voice communication.
Leading the capabilities of Version 2.1, Vocera offers a push-to-talk mode for instant conversations among groups of users. In critical situations, system users can now make instant, unlimited connections to large groups of users without speech recognition. Users simply press and hold the Call Button on the Badge to broadcast to all members of a pre-defined group The new push-to-talk mode enhances the existing broadcast feature by enabling users receiving a broadcast to respond to the entire group with a single button press. The new feature is part of the standard Vocera Communications System which allows unlimited group sizes and numbers of groups, with no monthly recurring usage fees.
Version 2.1 debuts Vocera's new voice-initiated paging feature, giving the user the opportunity to send a numeric page using a voice command. This permits users to communicate more efficiently with off-site personnel and resources, thereby saving time and improving productivity for staff members.
The new text-to-speech message playback feature allows users to hear an audible playback of text or e-mail messages sent to their Badges. To access audible message playback, users simply give the voice command, "play text messages," and instantly hear text messages read back to them. New play, delete, and save commands also have been added for both text and e-mail messages, giving users flexibility when listening to their messages.
Version 2.1 offers a new level of flexibility for IT administration, including centralized server support, which enables a single server to support multiple locations. For large campuses, retail chains, and warehouse facilities, it is more convenient and cost-effective when IT departments can manage multiple sites from one location. With this feature, users can interact with other users and groups from various sites within an enterprise network. In addition, users can roam between locations and contact co-workers on their Badge while they are at another facility.
As an extension to the existing licensing structure, Vocera now offers large customers a range of enterprise licenses which limits the number of concurrent users logged onto the system, instead of limiting the number of user profiles maintained in the system. This new licensing option allows system administrators to maintain an ever-expanding user database.
Since Vocera started shipping product in October 2002, it has installed its system in leading hospitals, including Arkansas Children's Hospital, Vanderbilt Medical Center, Long Beach Memorial, and El Camino Hospital, and retail companies, including Target Corporation.
The system is sold through select value-added resellers across the United States and Canada. Pricing is based on purchases of the software, Badges, and software maintenance agreement. Server software licenses start at a list price of $20,000 for a 75-seat users' license, and the Vocera Communications Badge, which can be shared by shift-based workers, sells for around $350 depending on the configuration.