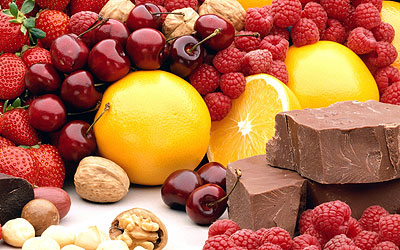 San Francisco visitors invariably stop at the famous Ghirardelli Chocolate Factory flanking Fisherman's Wharf. Now a beautiful brick structure with luxury shops and the Ghirardelli Chocolate Chocolate Shop and Soda Fountain, the location was once a working chocolate factory founded by Domingo Ghirardelli.
Ghirardelli, who arrived from Italy via Lima, Peru, came to San Francisco to try his luck at gold prospecting. He quickly returned to the trade in which he had apprenticed while in Italy-that of candymaking. Demand for his craft was brisk, and by 1852, he opened his first coffee and confectionery factory in San Francisco. Thus began a family story of breathtaking financial successes and setbacks made prosperous by a demand for luxuries, but sabotaged by fires and the Depression.
It was a discovery made at the Ghirardelli factory that revolutionized chocolate making in the United States. In 1865, a Ghirardelli worker put a batch of ground cocoa beans in a cloth bag and hung the bag from a hook overnight. By morning, a pool of cocoa butter had collected on the floor. The ground chocolate left in the bag was almost fat free, creating a dry powder that combined with liquids more smoothly. (Before this discovery, the fat in ground chocolate made it difficult to combine with liquids). This powder became the essential ingredient in Ghirardelli's popular Sweet Ground Chocolate and Cocoa. The elaborate hanging process was soon replaced by presses, and by 1867, the newly-built railroad opened Eastern markets for the rapidly expanding line of Ghirardelli products.
Today, Ghirardelli is only one of ten chocolate companies in the U.S. to make chocolate from bean to finished product. Ghirardelli is praised by the food media for its baking and eating chocolate, so it is only natural that a cookbook of favorite chocolate recipes would follow.
The Ghirardelli Chocolate Cookbook contains 80 recipes for Drinks, Cakes and Tortes, Pies and Tarts, Cookies and Bars, Bread and Pastries, Confections and Other Desserts, and Sauces and Toppings.
A helpful instructional chapter teaches how to store, decorate and cook with several chocolate types. The company's creative graphics, packaging and memorabilia sprinkled throughout capture the nostalgic quality of chocolate and transport you back to the pleasant memories of childhood.
Within The Ghirardelli Chocolate Cookbook are just some of the following tempting recipes:
Drinks - Chocolate-Orange Cooler, Mexican Mocha Hot Chocolate
Cakes - Chocolate-Almond Layered Cheesecake, Chocolate Decadence Cake, Chocolate Ice Cream Cake, Chocolate Carrot Cake
Pies and Tarts - Crunchy Mudpie, Peanut Butter Chocolate Chunk Pie, Chocolate Hazelnut Pear Tart, Layered Chocolate Pie with Chocolate Curls
Cookies and Bars - Dalmatian Macaroons, Marbled Biscotti, Chocolate Mexican Wedding Cookies, Classic Blondies
Breads and Pastries - White Chocolate Raspberry Muffins, Buttermilk Scones, Lemon Chocolate Chip Bread, Chocolate Zucchini Bread
Confections and Other Desserts - Classic Fudge, English Toffee, White Creme Brulee, Tiramisu, Chocolate Drizzled Baklava, Strawberry Laced Chocolate Shakes Ice Cream Chocolate Roll
Sauces - Amaretto-Chocolate Sauce, Hot White Fudge Sauce
The color photographs are enough to make any chocoholic salivate; luckily, the recipes are simple enough to recreate in your home kitchen.