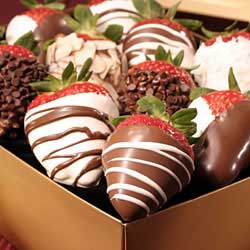 How does a $6 million company meet customers' needs on its biggest day of the year, Valentine's Day?
Shari's Berries International, Inc., a national gift company based in Roseville, Calif., normally employs 25 non-seasonal employees. These employees take care of the company's successful year-round business, shipping, on average, 12,000 chocolate-covered strawberries and other gifts to customers throughout the country each week.
The week before Valentine's Day, things change ... a lot.
For the Valentine's Day rush, Shari's Berries hires another 300 employees to fulfill orders. Over the course of just one week, these employees dip, decorate, package and ship 350,000 strawberries -- nearly 20 percent of the company's annual business -- throughout the U.S.
Valentine's week is a 24-hour-a-day operation. CEO Kevin Beresford is there at midnight each night helping out, ordering pizzas, even hiring a masseuse to ease employees' tired muscles.
"We work hard to recognize our employees -- especially during our busiest seasons," Beresford says. "We know it pays off. Even during holiday rush periods -- Valentine's Day, Mother's Day, Christmas -- we deliver 99.8 percent of all products on time."
Since Beresford came on board to helm Shari's Berries three years ago, his efforts have resulted in several changes. Sales have nearly tripled, and the company is planning an east coast expansion project by fall 2004. Beresford estimates that in 2004, the company will dip a total of 2 million strawberries in 60 tons of chocolate -- a 300 percent increase since he joined the company.
Beresford attributes Shari's Berries' impressive growth not only to the company's respect for its employees, but to its sincere commitment to providing customers the highest quality product and the best customer service.
"Every time we ship a box of Shari's Berries, we want that 'Wow!' factor," Beresford says. "We want both the gift giver and the receiver to remember their special experience -- so the next time one of them is looking for an unforgettable gift, they'll think Shari's Berries."
Shari's Berries chocolate-dipped strawberries and other gifts are available online or over the phone: 888-774-7797. They are shipped throughout the U.S. via overnight delivery.