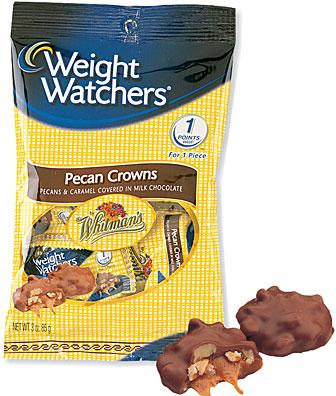 When Whitman opened his confection shop in Philadelphia in 1842, whole milk, rich cream, and high-calorie nuts and sugar were the ingredients to his success.
Whitman's Candies, maker of America's best-selling boxed chocolate assortment, the Whitman's Sampler, is reaching out to health-conscious consumers with the introduction of a line of chocolate candies co-branded with Weight Watchers International. The new line was developed both to accommodate consumers on Weight Watchers' Flex Plan, a point-based weight loss system, and those consumers simply looking for healthier snack food choices.
"There is no limit to the potential growth of better-for-you chocolates," explained Whitman president Tom Ward. "It's not inconceivable for consumers to prefer better-for-you chocolate to regular chocolate, if they find it to taste just as good and can buy it at an affordable price." Weight Watchers by Whitman's chocolate candies continue to be made with the finest ingredients, including real milk, sugar and nuts, but in combinations and portion sizes that better accommodate the Weight Watchers' Flex Plan.
Weight Watchers' Flex Plan is based on the Points Weight-Loss System that allows its members to eat any food as long as they keep track and control how much they eat. Foods are assigned Points values based on calorie, fat, and fiber content.
Nutritious foods -- lower in fat and higher in fiber -- have lower Points values. Choosing them becomes a smart-eating strategy because the Points formula is designed to reward healthier food choices.
The Weight Watchers by Whitman's line includes such flavors as English toffee squares, mint patties, pecan crowns, crispy caramel and chocolate mousse. Eight peg bag and six two-piece varieties are available at supermarkets, drug stores and mass merchants throughout the country. Each chocolate variety has a Weight Watchers' Points value of one per piece and zero trans fat.
Whitman's Candies is America's oldest continuously run chocolate company and one of the leading manufacturers of chocolate in the United States. Whitman's signature boxed chocolate, the Sampler, has remained America's top selling boxed chocolate variety.