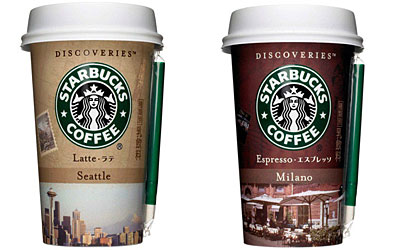 Starbucks today launched its first ready-to-drink coffee beverage outside of North America in Asia. Starbucks Discoveries coffee drink is a fresh, ready-to-drink chilled cup coffee that will initially be offered in two flavors, latte and espresso, and will be available this month in the refrigerated cases of select convenience stores in Tokyo and Taiwan.
In developing this new coffee beverage, Starbucks conducted research and found that Asian consumers perceived chilled cup coffee as the highest quality of all coffee beverages. The beverage is made fresh and is kept refrigerated.
The launch of Starbucks Discoveries is the company's first international entry into the chilled cup coffee segment. Starbucks took more than a year to create a superpremium ready-to-drink coffee designed to appeal to the local taste preferences in Asia.
The name Starbucks Discoveries was inspired by Starbucks coffee buyers who travel the world looking for high quality arabica coffee.
"Starbucks Discoveries is a high quality coffee beverage, crafted with the same care and attention to detail our customers have come to expect from us," said Gerry Lopez of Starbucks. "Expanding into this new channel in Asia helps to strengthen the Starbucks brand and reinforces our reputation for innovation, coffee quality, and expertise."
Suntory, one of the leading Japanese producers and distributors of food and beverages, will manufacture and distribute the Starbucks Discoveries coffee drink. In Taiwan, Uni-President will manufacture the product.
Starbucks has more than 9,500 retail locations around the world.