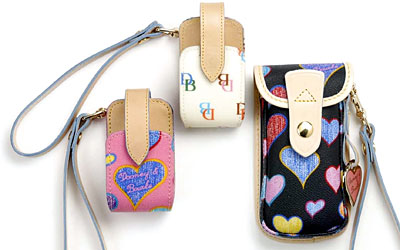 As the trend of wireless phone personalization continues, Sprint customers will be able to express their stylish side with fun and fashionable phone cases from leading handbag designer Dooney and Bourke.
"Wireless phones are an essential part of people's lives, and our customers are telling us they want the phone and now even accessories to be more reflective of their personality," said John Garcia of Sprint. "Our introduction of the Dooney and Bourke line takes this concept to a whole new level in a very credible way. We feel this new line of high-end accessories will be very appealing to our customers."
Sprint customers have several different color and style options in the new Dooney and Bourke handset cases. The large cases are perfect for carrying a Sprint PCS Smart Device and can also be used as cute mini-bags to hold any clamshell phone plus more in one place. The small handset cases are a great fashion statement for carrying any clamshell phone.
Both sizes of the cases are available in basic black or bold patterns such as white with multicolor Dooney and Bourke logos or pink with multicolor hearts. Fun and functional details include logo dangles and leather straps to carry your phone easily or attach it to your handbag. The cases will also be available in Dooney and Bourke's retail locations.
"Accessories allow people to showcase their individuality, and wireless phone cases are becoming one more option for people to do that," said Ian Ray of Dooney and Bourke. We are "excited to help Sprint customers display their fashion savvy by offering this new, exclusive line of designer handset cases."