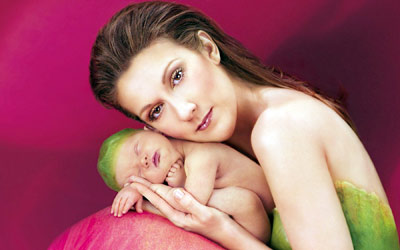 Singer Celine Dion and photographer Anne Geddes will combine their gifts to create a combination of music and images, the Miracle project, to be released by Epic Records on October 12, 2004.
This powerful collection of love songs and lullabies is complemented by stunning and tender images, including some of Celine herself with the babies. Both the music and the photography are meant to honor the unbreakable bond of love that exists between a mother and her baby. This outstanding body of work will be available as three distinctive product releases: a beautiful coffee table book with CD, a special edition DVD and book combo, and a CD with booklet.
Celine notes, "I've always been a huge fan of Anne Geddes. Long before I became a mother, I admired and appreciated the beautiful way she photographs babies. It's wonderful to be able to work with her on this very special project which celebrates children."
Celine Dion has won five U.S. Grammy Awards, 20 Juno and 39 Felix Awards in Canada, seven World Music Awards in Europe, and many other awards in Asia and Africa. Celine, who is signed to Sony music, is considered the premier contemporary pop vocalist on the world stage with record sales exceeding 160 million copies around the globe. Her hugely successful show, A New Day, an unparalleled combination of performance, passion, and theatrical innovation, has been the hottest ticket in Las Vegas, playing to sold-out audiences since its opening on March 25, 2003, at The Coliseum at Caesars Palace.
Australian Anne Geddes is one of the world's most respected and successful professional photographers. Her 1996 and 1997 New York Times bestseller Down in the Garden propelled Anne into the imaginations and hearts of people everywhere. Her award-winning photographs of babies have been published in more than 50 countries. Her books have sold more than 15 million copies worldwide and been translated into 16 languages. She is critically regarded and easily recognized as the world's preeminent children's photographer.