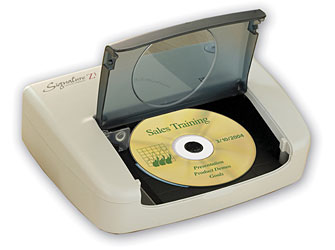 Primera's Signature Z1 is a compact and affordable desktop printer that prints directly onto CD-Rs and DVD+/-Rs with tough, waterproof thermal transfer ink.
Up to four separate areas of the disc can be printed with Signature Z1. The unique, patent-pending mechanism prints each of four quadrants by spinning the disc and then applying ink in each area. This distinguishes Signature Z1 from other inexpensive thermal transfer disc printers that can print only a single line at a time on discs.
Instead of writing on discs with a marking pen or using expensive and hard to apply CD labels, Signature Z1 prints directly onto CD-Rs and DVD+/-Rs. Printing is fast; each disc takes less than one minute to print. Printed discs can include text, graphics and logos. The tough thermal transfer ink is highly scratch- and smudge-resistant as well as completely waterproof.
Signature Z1 is perfect for printing onto recorded CDs and DVDs that contain music, videos, photos, software, data and much more. The crisp text and graphics make every printed disc look finished and professional. Its compact size and easy to use software is ideal for use at home, school, or office.
"The Signature Z1 is our most affordable CD/DVD printer ever," said Mark D. Strobel, Primera Technology's Vice President of Sales and Marketing. "But despite its low price, it prints CDs and DVDs with the same quality and professional look as high-end thermal printers costing literally thousands of dollars."
Signature Z1 sells for $139.95. Everything a user needs to get started is included: the printer, a black ribbon, USB cable, AC adapter, label design software, operator's manual and several sample CD-Rs.
Replacement ribbons cost $19.95 and will yield 400 print areas. A full-coverage disc has four print areas, so if only two print areas are selected - such as the top and bottom of the disc - printing cost per disc is ten cents. Ribbons are available in four colors: black, red, blue or green.
Signature Z1 is easy to set-up and operate. It connects to any PC running Windows 2000/XP via USB 1.1/2.0. Simply enter your data, import graphics and logos, and print. The printer's label design software can utilize any font on the PC and over 250 clip art images are included.
Primera develops and manufactures CD-R/DVD+/-R duplication and printing equipment. Primera is known for its popular Composer line of CD/DVD disc duplicators, Signature line of inkjet CD/DVD disc printers, and the Bravo II Disc Publisher system.