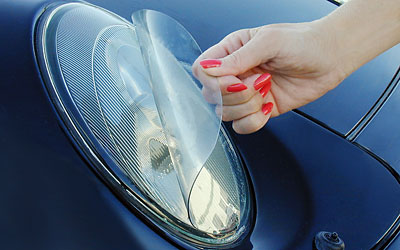 One of the most important measures to take before a vehicle leaves the dealer's lot is to protect the paint and other areas on the front end, said W. Rege Brunner of XPEL.
Rocks, grit, and bugs can quickly destroy the pristine look of car and truck paint finishes. These hazards start assaulting a new vehicle as soon as it is driven off the dealership's lot, leaving chips, bug stains, or broken and pitted headlights.
One way to protect your investment is to have a product such as 3M Scotchgard Paint Protection Film applied to surfaces most likely to take a beating from the road, such as front bumpers, hoods, side mirror housings, rocker panels, door edges, and headlights.
Because this urethane film is a product that looks best when not noticeable, the highest-quality fit and installation are crucial to achieving the best appearance and optimum level of protection.
The best protective-film installations utilize computer software that produces a sheet of film custom-fit for the dimensions of each vehicle's specific design. An increasing number of installers of 3M film use an advanced system developed by XPEL, which continuously updates its advanced software as new vehicles enter the market. Software-based systems output a precisely fitted sheet of film prior to installation.
"Computer-generated pre-cut kits eliminate the accidental knife nicks caused by low-tech installers who have to cut the film after applying it to the vehicle," Brunner said.
The precision of using the best technology available for these installations has earned XPEL a following among high-end manufacturers such as BMW and Porsche, as well as increasing demand from buyers of all types of vehicles, who realize the importance of protecting their investment from the beginning.
XPEL Technologies is a leader in automotive protection.