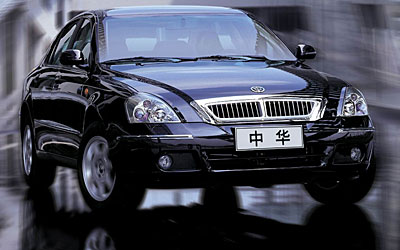 Global Holdings International's full line of Chinese-manufactured vehicles, which include sedans, minis, sports coupes, SUVs, minivans, trucks, light trucks, buses, and heavy equipment are on their way to America.
Global will be luring the public with low prices, most priced at 30-50% less than comparable vehicles sold in the U.S. today. Global's cars will all carry extended warranties.
Global's full line of vehicles will hit the U.S. market in 2007. Some vehicles are already being sold in other countries, and sales in both Europe and Mexico will begin early this year. Over a million commercial and heavy equipment vehicles have already been sold worldwide.
Global's product line includes vehicles from Brilliance, Foton Auto and Boading Tianma Auto. Foton also carries a full line of heavy equipment. The Brilliance M1 sedan (pictured above) will begin its tour of the United States in San Francisco, California in June 2006. The Las Vegas showroom to follow in the latter part of the year."
Global's vehicle line is of premium quality. "We are entering the market with premium quality products and superior design, all backed by a warranty," said Global CEO Jeff Suh.
Distributorships have been sold for certain areas of the U.S. Individual dealerships in the U.S. are projected to sell a thousand vehicles per store and will be carefully selected.