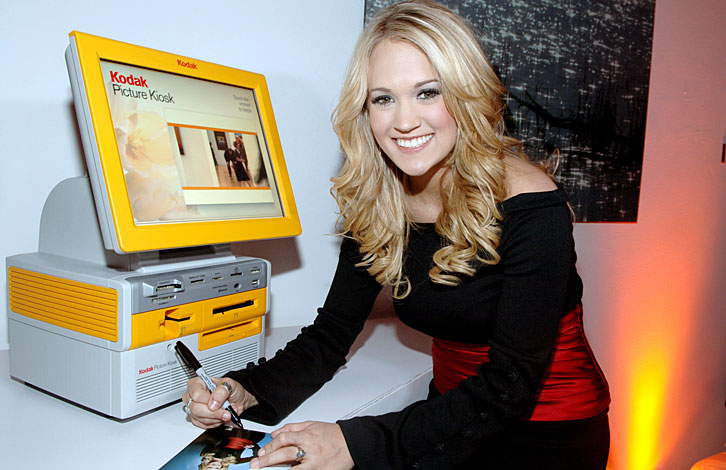 The Kodak Picture Kiosk G4 family is the latest in Kodak's line of photo kiosks.
These models offer performance improvements and new features designed to elevate the consumer printing experience while helping retailers compete in the rapidly expanding digital printing market. New, faster printers for improved customer throughput, with 4x6-inch prints in as little as four seconds each. A high performance processor doubles the image upload speed from memory cards -- allowing multiple pictures to appear on screen for selection and editing in just seconds -- and reduces transaction times. Contemporary new styling gives a thirty percent reduction in footprint and weight. Improved system reliability ensures minimal downtime.
"Kodak has been the global leader in retail photo kiosks since the first Kodak Picture Maker was installed more than twelve years ago," said Kodak's Patrick King. "Consumer demand for convenient, high-quality digital photo printing options from retail locations continues to soar and printing via kiosks is the fastest growing retail printing segment, increasing at more than 300 percent per year in the United States. Kodak remains dedicated to providing products and services that benefit both consumers and retailers alike."
"The new Kodak Picture Kiosk G4, along with the associated portfolio improvements announced today, not only represent proof that Kodak is fulfilling that pledge, but also raise the bar for the entire industry."
With surging demand for digital printing and declining film volumes, Kodak contends that digital photo kiosks are the most productive and profitable alternative for retailers looking to make it easy for consumers to print their digital photos. "As film volumes decline, digital mini-labs will not provide an economic alternative for the majority of retail locations," said King. "A digital kiosk, supported with wholesale processing for film users, will be a more productive and profitable alternative for all but high film volume locations."
The new Kodak Picture Kiosk G4 was designed to meet exploding demand while preparing retailers for continued growth. This innovative hardware solution signifies an evolution in the retail digital printing market and for Kodak. The new name of the product was carefully chosen as a departure from the long-standing Kodak Picture Maker identity to signify that these new machines do much more than previous generations. At about half the size of its predecessor, the sleek yellow and silver casing of the Kodak Picture Kiosk G4's order station console sets it apart from other models and complements the contemporary look and feel of Kodak's entire portfolio of new digital products and services.
The Kodak Picture Kiosk G4 is a full-service digital photography solution, supporting all popular digital media formats (memory cards, USB drives, CDs/DVDs), digital scanning, and wireless printing via Bluetooth and infrared technologies, while offering services beyond standard printing such as Kodak Picture CDs, a range of printing sizes and editing options, customized borders and even photo calendars. Inside the attractive new body is a high-performance processor -- 35 percent faster than prior models -- combined with an improved user interface. This will reduce transaction times and increase retailer productivity. The new design allows for easier serviceability.
Thanks to the speed and efficiency of the new Kodak Photo Printers 6850 and 8800 thermal dye sublimation printers, the Kodak Picture Kiosk G4 can now make 4x6-inch prints in as little as four seconds for $0.29 - $0.39 each (depending on the retailer) and produce prints up to 8x10-inches in as little as 39 seconds. This significant increase in print speed takes digital printing one step further in accommodating the busy lifestyle of today's consumers, while allowing retailers to achieve maximum profitability from their machines. A thermal dye sublimation process protects each picture with a coating to make the prints wipe-able, waterproof and stain resistant.
Kodak Picture Maker software version 5.2 includes capabilities that will help to drive incremental sales of services. Based on the consumer's editing and ordering choices, the kiosk intelligently presents information for additional photo services available and allows them to add an additional service to their order with just one touch.
The software takes advantage of Kodak's proprietary image science technology which reveals vibrant colors, rich detail, and few dark shadows. Kodak Picture Maker software version 5.2 comes standard on the new Kodak Picture Kiosk G4 and is available for installation on existing G3 kiosks.