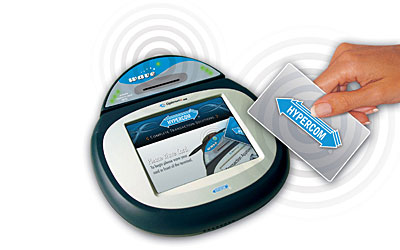 Shorter lines and faster service are coming to large department stores, supermarkets and thousands of smaller multi-lane retail chains thanks to Hypercom's fast, easy-to-use card payment technology.
Hypercom's sleek, compact, high speed and high performance Optimum L4100 card payment terminal packs a powerful 32-bit Intel processor to deliver multi-application performance and speed. The multi-application signature capture card payment terminal with integrated RF reader will help larger retailers boost services, revenues and profits, bringing to the check-out lane a powerful combination of credit/debit card authorization and value-added services such as electronic signature capture, prepaid cards, loyalty cards, age and/or ID verification and more.
Hypercom is helping to redefine retail.