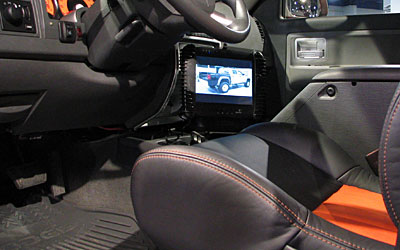 Stargate has joined Xybernaut as a systems integrator and solution provider working with Xybernaut in the automotive sectors. Both companies have been working together to develop and deploy the integrated computing platforms.
The mobile wireless solutions are initially being offered on the Xybernaut Atigo computers. The complete turnkey systems consist of the Xybernaut Atigo computer running two specific platforms - information and entertainment - that were specifically designed for use in automotive applications utilizing wireless networking capabilities for transferring data and Internet access.
"The mobility and full computing power afforded by the joint Xybernaut-Stargate solutions offer auto enthusiasts a unique option for OEM or after-market upgrades," said Brad Chitty of Xybernaut. "In recent years, automotive upgrades have become one of the largest consumer electronics markets in the U.S. and abroad. Though music and video applications were the initial focus, full computing capabilities are a natural next step. We're confident an automated Internet-based whole-vehicle computing solution serves the broadest array of applications."
Several vehicles have been configured with the joint Xybernaut-Stargate technologies to demonstrate the information and entertainment components such as telematics (GPS/GIS), navigation, OBDII, computing capabilities, MP3s/music, DVD/video and other capabilities.
Initial customers using the joint solution include Decoma, General Motors, Hummer, and Daimler/Chrysler.
"Stargate is truly pleased to bring such fine products and talent together in order to offer a life-moving experience for consumers in the mobile world with live in today," said president John Cooper. "With the flexibility and portability of the Atigo, our customers have full mobile computing both inside the vehicle or away from the vehicle if they chose to undock the Atigo and take it with them."