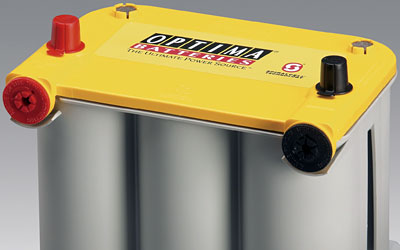 The new Group 75/25 and Group 35 Yellow Tops offer dual-purpose Spiral Cell Technology to more vehicles with extreme audio demands.
Many of the in-car electronics being introduced at CES put increasing demands on a vehicle's electrical system creating the need for a high performance deep-cycle automotive battery. Optima Batteries can now provide this deep-cycling capability along with high cranking power with the introduction of the dual-purpose 75/25 and 35 Yellow Top batteries.
The growing tuner and car audio market has given rise to an increase in audio/visual, high draw lighting and larger stereo systems. Optima's Yellow Top batteries provide not only a higher level of electrical output, but also a stable voltage supply for the increasing list of electrical and electronic systems in modern vehicles. These dual-purpose batteries supply reliable starting power to the engine while ensuring a consistent supply of power to the vehicle's advanced electrical system.
"We're always looking for ways to stay ahead of the trends in the automotive industry," said Cam Douglass of Optima Batteries. "The new 75/25 and Group 35 Yellow Tops allow car audio enthusiasts the option to fill their vehicles with the latest and greatest electronics while continuing to supply their cars with the starting power they can always depend on."
The new Group 75/25 and 35 batteries complete an already extensive line of Optima batteries including the Group 51, Group 34 and Group 31 Yellow Top models. With the introduction of the 75/25 and 35, Optima can now outfit many hot tuner cars including the Subaru WRX and Mitsubishi EVO as well as domestic sport compacts and import SUVs with a dual purpose Yellow Top battery. The Group 35 is also able to fit some of the most popular European vehicles from Audi, Volkswagen, BMW, and some Mercedes models.
The new Group 75/25 and Group 35 Yellow Top batteries are available now at retailers nationwide. To find an Optima look for the unique six pack design and yellow, blue, or red top.
Optima Batteries are manufactured by Johnson Controls.