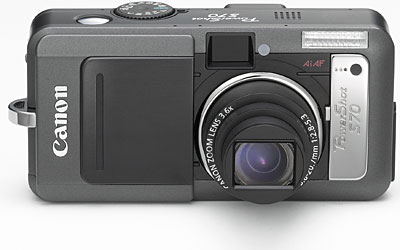 Canon's 7.1-megapixel PowerShot S70 digital camera increases the photographic options for consumers and enthusiasts alike with its high performance 28-100mm UA wide-angle 3.6x optical zoom lens and a compact, two-toned dark metallic and black body, expanding upon the popular 5.0-megapixel PowerShot S60 digital camera that Canon launched in May.
"The PowerShot S70 digital camera combines state-of-the-art optics with an increased resolution 7.1-megapixel sensor and a sleek design to satisfy consumers, enthusiasts and professionals that depend upon imaging for their business operations," said Yukiaki Hashimoto, senior vice president and general manager of the consumer imaging group at Canon U.S.A., Inc. "The wide-angle capabilities of the PowerShot S70 and S60 digital cameras allow real estate and insurance professionals as well as photo enthusiasts to capture a wide angle view without additional attachments or converters, ultimately streamlining their imaging process."
Both the PowerShot S60 and S70 models are equipped with a uniquely designed 3.6x optical zoom lens that covers a focal length range from 28mm wide-angle to 100mm telephoto (35mm film equivalent). This new lens features Canon's exclusive Ultra High Refractive Index Aspherical technology, called UA Lens technology for short, which produces outstanding sharpness and clarity while at the same time allowing the camera body to be even thinner and more compact than previous models with smaller zoom ratios. The 28mm zoom setting makes real estate photography, group photos and travel photography much easier, while the UA technology produces crystal clear image quality at all focal lengths.
The S70 model's stylish dark metallic and black two-toned body with elegant chrome accents has a smooth-sliding lens cover that acts as an on-off switch. A redesigned control layout on the rear of the camera replaces the multi-controller found on previous S-Series models with separate controls for zooming and menu selection, making the S70 camera easier to use. Canon has also upgraded the LCD monitor with a new animated menu navigation system that makes it easier to select custom settings and other adjustments.
In order to increase the amount of photographs users can capture, Canon developed a new lithium-ion battery pack, the NB-2LH model, which delivers approximately 26% higher capacity than the previous NB-2L.
The PowerShot S70 digital camera sports a variety of superior features that enhance its usability and make it stand out from the crowd. Notably, the camera's macro function allows photographers to shoot a subject from as close as 1.6 inches and the camera's optional teleconverter extends the focal length to 200mm.
Additional noteworthy enhancements of the PowerShot S70 digital camera include:
Faster start-up;
Faster continuous shooting at 2.0 frames per second;
13 shooting modes including enhanced VGA Movie Mode;
RAW+JPEG recording with user-selectable JPEG resolution;
Optional tele-converter, wireless controller and underwater housing Print/Share Button for easy direct printing and downloads.
For year-round vacations, Canon's new PowerShot S70 digital camera is compatible with a new optional underwater housing, the WP-DC40. Designed for capturing fabulous underwater photos while snorkeling, in the pool, or just to protect the camera while boating or on the beach, the housing is available for approximately $240. For the underwater enthusiast, Canon will offer a new waterproof case weight set (WW-DC1) that is compatible with all of its underwater housings. Available in packs of four, these weights allow the camera to hold for steady underwater photography.
To capture the best underwater shots, the PowerShot S70 digital camera includes a new underwater preset for the white balance. This feature automatically sets the camera to the correct white balance for underwater shooting so photographers do not have to worry about the difficulty of operating manually.
Canon developed the proprietary DIGIC (Digital Imaging Integrated Circuit) Image Processor specifically for use with its line of digital cameras. The technology combines the jobs of image processing and camera function control into one chip. Because it was specifically designed for use in digital cameras, it is also capable of handling JPEG compression/expansion; memory card control; LCD/Video control and processing; gain control (control of CCD signal amplification); Auto Exposure; Auto Focus; Auto White Balance control and most other functions of the camera. The result is a product that offers faster and more powerful auto focus than ever before, faster image processing, better image quality and longer battery life.
When it comes to printing, consumers want it done quickly and easily. The PowerShot S70 digital camera offers a range of new printing features including Canon's Print/Share button, ID Photo Print, and Movie Print**. The Print/Share button has a blue light indicator, which signals the user when printing can begin, just by pressing the button. This feature is operational when the camera is connected to a Canon Compact Photo Printer, Canon Direct Photo Printer or PictBridge compliant printer and set to Playback mode. When connected to a Compact Photo Printer, users can crop the recorded image to the appropriate size prior to printing ID photo size prints. The camera offers 28 different sizes providing ID photo dimensions for use in countries around the world. The Movie Print feature is also used when the camera is connected to a Compact Photo Printer. It prints a series of still images from a recorded movie onto a single sheet in the form of an index print.
The PowerShot S70 digital camera also offers a Direct Transfer feature, which allows users to instantly transfer images - one at a time or all at once - from the camera to a Windows computer using a USB connection.
The Canon PowerShot S70 digital camera comes bundled with battery pack NB-2LH and charger CB-2LT, USB cable and 32 MB Compact Flash card. Optional accessories include the new waterproof case WP-DC40, Conversion Lens Adapter LA-DC10, 2.0x Tele-converter TC-DC10, which extends the focal length to 200mm and Wireless Controller WL-DC100. The digital camera will be available in September for around $599.99.