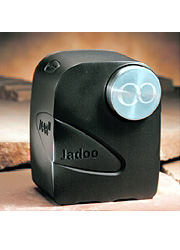 Jadoo Power Systems announced today that it had delivered its professional video camera power system, the NABII, to KOVR, the CBS affiliate in Sacramento, California.
Jadoo is working with a select group of end users in this product pre-release. The NABII will be formally launched at the National Association of Broadcaster's show in Las Vegas, April 17-22, 2004. The NABII provides over three times the runtime of a standard brick battery, is hot-swappable, and can be refilled in less than an hour, providing significant benefit to the end users.
"Today marks the next chapter in power technology. The professional photographer now has a power solution that is flexible enough to accommodate all of their needs, as well as the increasing power needs of the newest camera systems," stated Larry Bawden, President and CEO of Jadoo. "Instead of being beholden to their batteries, photographers using Jadoo's NABII fuel cell will enjoy benefits that no other power solution can provide."
"Over the last ten years the technology that has been built into cameras has been incredible," said Del Parks, Vice President of Engineering and Operations at Sinclair Broadcast Group. "Jadoo's NABII will enable full utilization of advanced news gathering equipment and will dramatically improve the performance and efficiency of our cameramen."
Jadoo Power Systems provides portable fuel cell power systems.