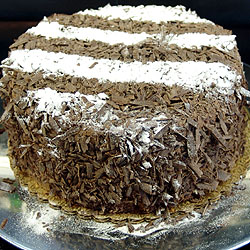 The Wedding Cake Book - Although the wedding cake is usually one of the last details engaged couples settle on before the big day, it's just as important for setting the tone and style of the celebration as the flowers or the invitations. An elegant, towering Croquembouche studded with golden almonds and wrapped in clouds of spun sugar sends a different message than a rich-looking Gianduja Truffle Cake decorated with fresh fruit and dusted with gold powder or a White Chocolate Satin Apricot Cake adorned with flowers (click to see photos). Chef Dede Wilson believes that wedding cakes should be aesthetically pleasing, but above all should "reflect the tastes, beliefs, and desires of the bridal couple." With the aim of creating cakes that taste as good as they look, Wilson lends her expertise and creative spirit to the marvelous constructions in The Wedding Cake Book. As much a cookbook as a source of inspiration, The Wedding Cake Book takes bakers--novices and experts alike--step by step through the process of conceptualizing, baking, assembling, and decorating wedding cakes of all levels of difficulty. Each recipe page includes the components needed to make the pictured cake (layers, fillings, decorating accouterments, equipment); the number of servings; the level of difficulty (easier, moderate, or complex); and the recipe and preparation instructions. Other chapters cover finishing touches, cake accompaniments such as sauces and fillings, equipment, and resources for special ingredients or professional equipment. Bakers looking for detailed instructions and delicious recipes and brides seeking ideas for the perfect cake for their postnuptial celebration will find what they're after in The Wedding Cake Book.
Colette's Birthday Cakes - A cake is de rigeur for any American birthday celebration worthy of the name. Continuing her series of volumes pictorializing her sumptuous cakes, Peters brings her decorative skills to cakes designed specifically for birthday observances. And anyone receiving a cake like one of Peters' creations should be particularly grateful. Peters' skill with milled fondant overshadows that of most other professional bakers. She can carve fondant into tight, sharp geometries, or she can swirl it, fold it, and wave it into silken ruffles and curves that belie its solidity. Line drawings assist the cook in recreating these elegant pastries, but only professionals and those with some formal training in handling fondants and cake-decorating tools and techniques will readily pick up on Peters' barebones instructions. Recipes, too, reflect a professional's approach, measuring by weight rather than volume. - Mark Knoblauch
Betty Crocker's New Cake Decorating - 70 cake recipes for special occasions--baby and wedding showers, housewarmings, graduations, birthdays, and holidays, such as Christmas, New Year's, Easter, Fourth of July, Thanksgiving, Halloween, Hanukkah, President's Day, Mother's Day, and Father's Day. With decorative gels, candy, chocolate, mint leaves, coconut, food coloring, nonpareils, and sprinkles, an assortment of cake decorations can be created: gym shoes for an athlete, a car to send friends off on a trip, ballet slippers for an aspiring ballerina, basketballs, soccer balls, baseball caps, sailboats, snowmen, spaceships, trains, and teddy bears. There is a chapter on cake basics that offers tips on batter, on measuring ingredients, on using shortenings, eggs, and chocolate, on removing layer cakes from pans, on using dowels, on freezing and storing cakes, on using decorating bags, and on making rosettes, flowers, borders, and leaf designs.
Colette's Wedding Cakes - Peters' one-of-a-kind wedding cakes, for which she charges hundreds, sometimes even thousands of dollars, have made her America's most sought-after culinary artist. This dazzling book showcases 32 of Colette's most amazing wedding creations, organized by season, complete with step-by-step instructions and templates. 50 color photos. 2 line drawings.
Colette's Cakes : The Art of Cake Decorating - Painter and former Tiffany's designer Colette Peters presents complete instructions for reproducing 34 of her most gorgeous and inventive cakes. Step-by-step directions and more than 200 line drawings and color photos guarantee that even a novice will be able to create exceptional cakes from the very beginning. Includes recipes for white and chocolate cake, icings, and more. Color photos.

Sweet Celebrations : The Art of Decorating Beautiful Cakes - Sylvia Weinstock designs beautiful cakes. Sharing that opinion are Oprah Winfrey, Donald Trump, and several Kennedys, among other clients of Weinstock's New York cake business. In Sweet Celebrations, Weinstock and co-author Kate Manchester show readers how they can produce similar edible fantasies---bedecked beauties for all occasions, from weddings, birthdays, and anniversaries to bon voyages, bar mitzvahs, and baby christenings. Readers wanting to learn or refine cake decorating skills, or those interested in this ever-evolving craft, will welcome the book. Beginning with basic cake, filling, icing, and wash (syrupy soak) recipes, Weinstock then presents fundamental and advanced cake designing techniques including sugar dough work, flower and ribbon creation, and piping methods of all kinds. She then offers 24 cake projects of her own design, each illustrated in color, with detailed blueprints for their construction. Of these, readers will doubtlessly be most entranced with Weinstock's signature flower- and fruit-wreathed marvels such as her Peach Rose Wedding Cake and Marzipan Fruit Cake, but other Weinstock classics, including the Hatbox Cake, the "lace"-covered Cornelli Heart Cake, or the Clown Cake (perfect for children's parties) will prove equally tempting. Weinstock offers a level of difficulty notation for each cake so readers can choose their projects wisely and advance as their decorating skills develop. Not the least of Weinstock's success is due to her commitment to producing cakes that taste as good as they look, further cause for celebrating with her special creations. --Arthur Boehm