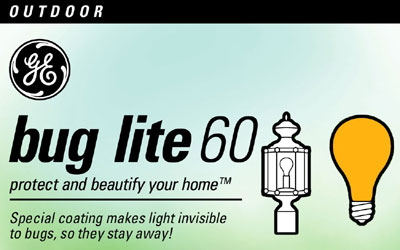 GE Bug Light bulbs contain a special coating that makes light invisible to flying bugs, so they aren't drawn to it.
Insect vision is different from human vision, spectrally. Insects are attracted to light in the UV part of the spectrum. Conventional incandescent lights have transmission in the UV range, and bugs can see it. The yellow pigment used to coat the GE Bug Light, filters out any light below 490 nanometers making the light it transmits non-existent to insects.
Choose a bug light to avoid those pesky insects at outdoor gatherings. GE Bug Lights are available in both incandescent and post light bulbs. Designed with a unique all-weather construction, they withstand harsh weather conditions better than conventional bulbs.
GE Bug Lights are available as a standard incandescent bulb. You can find them in 40 watt, 60 watt and 100 watt packs. These bulbs have a life of 1,000 hours.
GE Bug Lights are also available in a CFL Post Light, guaranteed for four years or 6,000 hours.
GE Consumer and Industrial manufactures major appliance, lighting and integrated industrial equipment, systems and services.