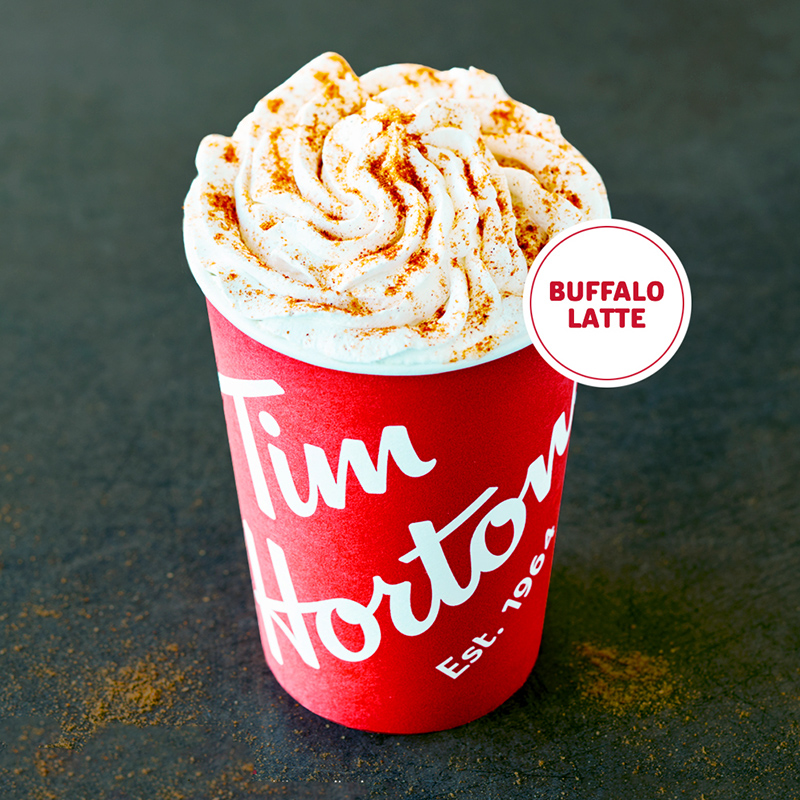 Buffalo sauce, the unique flavor with origins in Buffalo, New York, is on to a new frontier – lattes. Announced October 12, 2017, to honor Buffalo's bold signature flavor and celebrate the launch of the new espresso line-up, select Tim Hortons Restaurants in Buffalo, New York are introducing a Buffalo Latte. Made from freshly brewed espresso, steamed milk, mocha, and bold Buffalo sauce flavor, the latte is topped with whipped topping and a dusting of zesty Buffalo seasoning.
"Tim Hortons and Buffalo sauce were both born in 1964, so why not take these two Buffalo staples and combine them?" says Stephen Goldstein, Regional President, Tim Hortons U.S. "The unlikely pairing of sweet mocha and tangy Buffalo sauce come together to create an unexpectedly delicious sweet and spicy treat we hope our guests will enjoy."
Tim Hortons recently launched a new espresso line-up featuring premium, handcrafted espresso beverages including lattes, Americanos and cappuccinos – each available hot or iced. Latte flavors include caramel, vanilla, mocha, and pumpkin spice. The line-up was introduced exclusively in participating restaurants in Buffalo and Jamestown, New York, with remaining cities rolling out the new menu items through December.
The Buffalo Latte starts at $2.79 and will be offered at two Tim Hortons Buffalo restaurants.
Buffalo Lattes at the Tim Hortons at 4849 Transit Road, Depew, New York:
Buffalo Lattes at the Tim Hortons at 3470 Main Street, Buffalo, New York:
Tasted on Air
Trying the @TimHortons new #Buffalo latte on live television is an adventure. What does @JeffRussoWKBW think of it…? pic.twitter.com/tBTDx8wPVB

— Ashley Rowe (@TheAshleyRowe) October 12, 2017