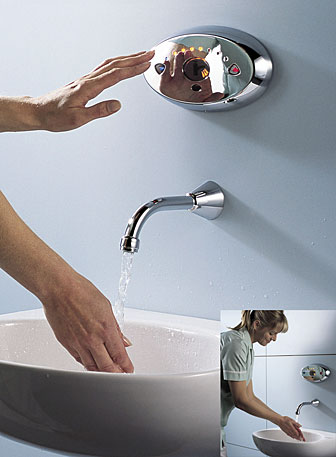 Armstrong International has developed an integrated system that meets new guidelines for prevention and control of Legionnaires.
"Armstrong products place Legionella risk reduction and enhanced user safety at the forefront of hot water system design and maintenance," said Paul Knight of Armstrong.
The updated guidelines specify that to routinely disinfect a hot water distribution system, each outlet should be flushed with water at 160 to 170 degrees Fahrenheit for longer than five minutes. Hot water should be stored above 140 degrees and circulated with a minimum return temperature of 124 degrees. Mixing and/or anti-scald valves are necessary to reduce the final water temperature to no more than 110 degrees to prevent scalding.
Armstrong's electronic mixing center meets these new guidelines by taking charge of the central re-circulating hot water loop in the mechanical room of a health-care facility. The system can be integrated with the resident building automation system (BAS) on location for total proactive hot water system control. The system can be either pre-programmed or BAS-instructed to deliver a high-temperature system pasteurization that targets potential colonization points throughout a water system as part of a routine system management protocol.
Areas of a water piping system where stagnant water resides are ideal amplification pockets for Legionella growth and may not be reachable with pasteurization or any other system treatment program.
"The key to any Legionella risk-reduction protocol is to deliver the selected treatment up to and then right through each point of use," Knight said.
Armstrong's hands-free electronic mixing valve that offers flow and temperature selection while combining Legionella risk reduction and point-of-use protection from accidental scalding. The system provides a programmable service flush to evacuate water from infrequently used fixtures and the pipe work upstream, with the added feature of a secured-access capability to individually flush each fixture with high-temperature water during system pasteurization. The unique hands-free design also reduces the spread of bacteria.
Armstrong International manufactures intelligent system solutions for steam, air, and hot water utility applications.