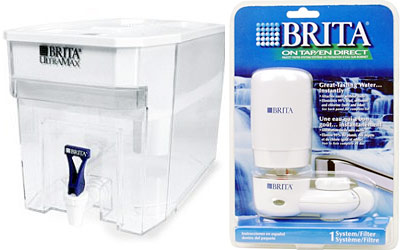 Americans are parched, according to a new survey. While people surveyed said drinking water is the easiest change to improve their health, less than half are actually drinking the recommended eight glasses of water a day.
According to the survey of 1,000 adults nationwide, people are more likely to check the weather (69 percent) or have a caffeinated beverage (58 percent) than drink eight glasses of water a day (40 percent). Yet more than a third of Americans choose "drinking more water" as the easiest health-improving lifestyle change they could make. Getting more exercise trails behind at 28 percent, followed by eating more fruits and vegetables (20 percent) and getting more sleep (13 percent).
Making water more of a part of your daily routine, instead of that daily cup of Joe, doesn't have to be a drastic change.
"While committing to an exercise program or making big changes to your diet can be overwhelming, making a small change like drinking more water can make a big difference in how you feel," says Dr. Susan Kleiner, Ph.D., R.D., and a nationally known expert in nutrition, hydration, and the body. "An easy thing to do is make a habit of drinking a full Brita pitcher of water every day."
Water has health benefits that you will notice right away, such as fighting off fatigue, suppressing false feelings of hunger, and even improving memory.
For some people, the bad taste of tap water and the expense of bottled water can be a deterrent to developing the hydration "habit." For great-tasting water at a fraction of the cost of bottled water, try the new Brita Smart Pitcher with a built-in electronic filter change Indicator. These new Brita pitchers have a convenient digital display built into the lid that flashes when the filter is 60 days old so you know when it may be time to change. The Brita Smart Pitcher allows you to enjoy clear, refreshing water, like bottled. It is recommended that Brita filters be replaced every 40 gallons (about every two months).
Brita 35034 2-Gallon UltraMax Water Filtration Dispenser - Large 2-gallon size. Improves the flavors of brewed drinks, juices, and foods cooked in water. Measures 14 by 7 by 8-1/2 inches. Combines activated carbon with ion exchange resin. Includes a filter replacement reminder. The Brita Ultra Max water filter keeps great-tasting water flowing for all drinking and cooking needs. It eliminates the hassle of refilling the pitcher-style water filters and the expense of bottled water. The aquarium-like unit fits on the countertop, or on a shelf in the fridge so you'll have drinking water that is always cold. Its see-through base has a snap-on lid and cap for refilling, and the carbon filter reduces metals, chlorine, off tastes, and unpleasant odors. The filter lasts for up to two months of steady use.
Brita 35503 Replacement Filters, Set of 3 - Improves taste of water for coffee, tea, juices, and cooking. Set of three replacement filters for Brita's pitcher. Filter combines activated carbon filter with ion exchange resin. Filters 40 gallons. Eliminates odors and off flavors from tap water. Brita's popular water filters keep great-tasting water at the ready for a fraction of the cost of bottled water. This set of filters makes sure that a replacement is on hand at all time, so that you can continue to drink and cook with water free from metals, sediment, and chlorine flavors. The filters also soften hard water and make tap water taste naturally good. Slip them into any Brita water filter; the reusable filter replacement indicator will let you know when it's time to replace it again.
Brita Smart Pitchers come in three designs and are available at mass merchandisers, major drug stores, hardware and home improvement stores, grocery stores, department stores, specialty stores, and at warehouse clubs.
The Brita Products Company, based in Oakland, Calif., is the leading maker of point-of-use water filtration products to improve the quality and taste of tap water.
The Brita Products Company is a subsidiary of The Clorox Company, a $4.1 billion multinational manufacturer and marketer of household products and products for institutional markets.
Survey results are based on an independent survey conducted by ORC International's Omnitel services between April 6 - 7, 2002. A total of 1,000 American consumers (519 women, 481 men) were interviewed during a random telephone survey. The sample design provides results with an error due to random sampling of no more then three percentage points at the 95 percent confidence level.