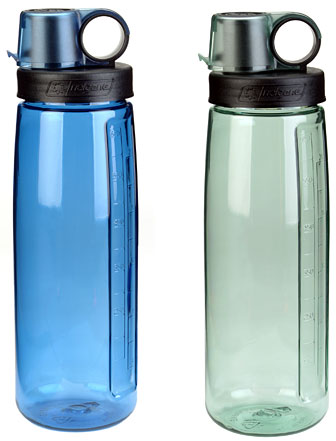 The new Nalgene one-the-go bottle (OTG) is designed for one-handed use.
The bottle features a patent-pending flip-top and a slender profile, which combine to make it easy to carry, open, close and store with a single hand. In addition, it fits into standard sized bike cages, car cup holders, exercise machines, and backpack bottle pockets.
When closed, the flip-top prevents leaks and keeps dirt away from the bottle's contents.
Like other products in the Nalgene beverage container product line, the OTG is made from rigid polycarbonate (PC), which resists breakage and withstands extreme temperatures. Top-rack dishwasher safe, the OTG also eliminates the tastes, odors and stains typically associated with other plastic bottles.
According to Fernando Galiana, the OTG is Nalgene's response to consumer demand. "Nalgene customers know they can look to us for sturdy and reliable containers that do away with plastic tastes and smells," he said. "The OTG is our answer to our customers' requests for a polycarbonate bottle that fits into bottle cages, cup holders and bottle pockets. It's a bottle that gives them all the benefits of a Nalgene but only requires one hand to use."
Available in Slate Blue and Sage Green, the OTG accommodates up to 24 ounces of liquid.
Nalgene Consumer Products manufactures taste- and odor-resistant, leakproof, and rugged plastic containers.