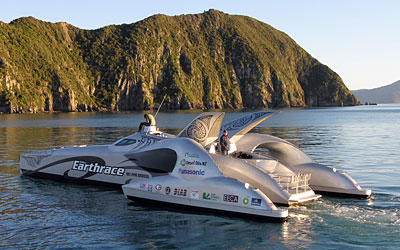 Better Biodiesel will provide biodiesel fuel to the Earthrace powerboat in its bid to set a new world record for circumnavigation.
Earthrace is a 78-foot trimaran powerboat that will strive to circumnavigate the globe in a record 65 days. With the race slated for next year, its itinerary includes an 18-month educational tour now underway calling at 60 of the world's great cities to highlight alternative fuels while raising awareness about sustainable resources and the environment.
Biodiesel fuel is made from plant matter and animal fats, is biodegradable and produces lower emissions than petrol diesel.
The Earthrace will be the highest profile powerboat in the world, as well as one of the greenest with environmentally friendly technologies such as low-emission engines and hi-tech hull design.
"Earthrace's fundamental purpose is to demonstrate that bio-fuels are synonymous with performance, power and leading edge-technology," said Earthrace Captain Pete Bethune.