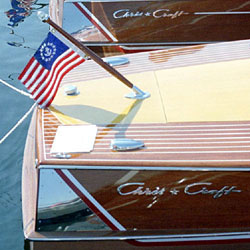 The 32nd Annual Newport International Boat Show will feature new sailboats and powerboats, and thousands of products and services from both domestic and international exhibitors.
Five waterfront facilities along America's Cup Avenue and Thames Street host the Show including the Newport Yachting Center, Oldport Marine, and Bannister's Wharf, which are all connected by show docks. West Wind Marina, is just 7 short blocks to the South, and our newest location, Newport Harbor Hotel and Marina adjacent to Banister's Wharf. The five Show sites are "connected" by free water taxis and land shuttles.
---
January 4, 2002 - Full Line-Up of New Models and Feature Excitement at the 2002 Pennsylvania Auto And Boat Show
There's something for everyone at the 2002 Pennsylvania Auto and Boat Show, which takes place Wednesday, January 23 through Sunday, January 27 at the Pennsylvania State Farm Show Complex. In addition to a complete lineup of 2002-model vehicles, the auto show also features pre-production models, concept cars and specialty vehicle displays. Marine enthusiasts will enjoy the boat show, which will showcase a variety of sport boats, small yachts and personal watercraft from over 20 marine manufacturers. The event also boasts a feature lineup that all ages will enjoy, including giveaways, theme days and an appearance by a top NASCAR Winston Cup Driver.
Whether you're in the market for a new minivan or summertime pontoon boat, the Pennsylvania Auto and Boat Show offers exciting displays representing over 50 automobile and boat manufacturers -- all under one roof. Show-goers can not only check out the latest in performance, style and comfort at the show, but can sit in driver's seats, sample backseat legroom on new cars, and even climb into the cabin of a luxury yacht.