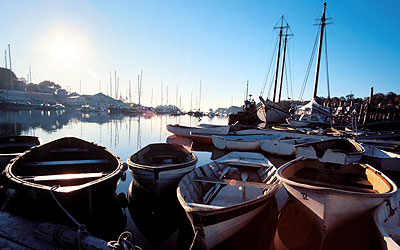 Plans are underway for the Sixth Annual Boat Auction to be held on Saturday, June 26th to benefit the NH Boat Museum. This event has grown under the direction of NH Auctioneer, Frank Sykes of Antiquebug along with his Crew and a host of Boat Museum Volunteers. It's become the largest fundraising event for the NH Boat Museum who receives the net proceeds of this auction.
Last years auction featured 170 lots with approximately 300 people in attendance. The larger boats that found new homes included a 1932 16' Chris Craft double cockpit $20,350. 1932 16' Chris Craft custom utility $16,500, 1932 Chris Craft runabout at $11,000. Other boat highlights were a 1948 16' Truscott Deluxe Utility $8800, 1963 Century Coronado at $7700 and a 1961 Grady White runabout for $5225. Sailboats were very popular last year and among the standouts were a 1903 gaff-rigged ketch at $3740, a John Marple design at $3080 and a 1963 22' Pearson Ensign day sailor for $2200.
Outboard motors always find spirited bidding activity and last years lot of 32 motors was no exception, they ranged from $50. to just under $600. Toys and boating memorabilia rounded out the auction with a "Lyle" line-throwing rescue gun bringing $660 and a sweet "Miss Liberty" steam-powered tin toy boat for $357.50. Also available were some great canoes, kayaks, guide boat, paddles, canoe seats, prints and books.