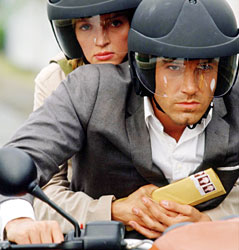 The 2003 BMW Rockster, one of BMW's most stylish and agile motorcycles, will join Ben Affleck and Uma Thurman in a Paramount Pictures and DreamWorks film, Paycheck, opening nationwide December 25, 2003.
Paycheck is the story of Michael Jennings (Ben Affleck), a world famous genius hired by high-tech corporations for specialized top-secret projects. Jennings is being hunted, but he doesn't know why, as his memory is erased each time he completes a job for security purposes. Highly paid for his work, he expects to earn eight figures for his latest three-year project, but upon completion, instead of a check, Jennings is given an envelope full of random objects including a key to what he thinks is a car . . . and told that he has agreed to forfeit all payment. With no memory and no defense, he discovers that the objects are clues to his past. Now, with the help of Rachel Porter (Uma Thurman), the woman he has worked with and loved for three years, Jennings is in a race against time to put the pieces of his past together before his previous employers have him killed.
There are several visually stunning chase scenes in Paycheck that add to the suspense of the fast-paced thriller. The most dramatic is a seven-minute motorcycle chase through the streets of Seattle that features Jennings (Affleck) on a powerful Matte Black and Orange 2 Metallic BMW Rockster. In the sequence, Jennings finds himself careening through traffic-at times oncoming-with Rachel (Thurman) in tow. Although audiences will see only one Rockster, filming the chase sequences took a total of six bikes. Affleck, an avid motorcycle aficionado, so enjoyed working with the Rockster that some scenes took fewer takes, and he did many of his own high-speed stunts during filming.
Upon viewing the chase scene in Paycheck, Tom Purves, Chairman and CEO of BMW (US) Holding Corp. remarked, "The Rockster was the perfect choice for getting Jennings out of a jam and gives BMW the opportunity to show what one of our bikes can really do when put to the test. This is a great riding machine for tight situations and quick getaways, and, as you can see from the film, even when you are being chased by bad guys, you can still have fun."
This science fiction thriller, directed by John Woo from a screenplay by Dean Georgaris, is based upon the short story by Philip K. Dick. This is not the first time that action film director John Woo has worked with BMW. Because of his unique approach to the action genre, and his illustrious body of work, (Broken Arrow- 1996, Face/Off- 1997, Mission Impossible 2- 2000, Windtalkers- 2002), Woo was invited by BMW to be one of three directors to participate in the second year of the highly acclaimed BMW online film series The Hire. His contribution was "Hostage," a nine-minute action packed film.
As part of the promotional activities for Paycheck, the megastar appeared on MTV's TRL with Carson Daly to talk about his new film in front of a live audience on Monday, December 15. During the program, as part of TRL's "12 Days of Christmas," Ben Affleck presented someone in the audience with a surprise dream gift from the movie, a 2004 BMW Rockster.
The Regal Cinema Chain, one of the largest movie chains in America with more than 6,000 screens across the country, will be conducting a Paycheck Sweepstakes promotion in its theaters beginning December 12th, and running through January 11th of 2004. Two lucky theatergoers will win an exact replica of the BMW Rockster featured in Paycheck.
Chosen as the "getaway" vehicle in Paycheck because of its superior handling and performing qualities-very fast, responsive and agile-the BMW Rockster retails in the U.S. for $10,790. The bike made its European debut at the end of 2002, and was first introduced in the U.S. in March of 2003.
More information about the BMW Rockster and to see a behind-the-scenes clip on the making of the chase scene in Paycheck.