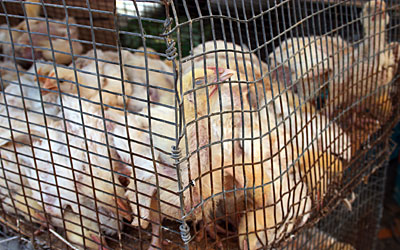 Agriculture Secretary Dennis C Wolff today announced that a Mount Joy, Lancaster County, poultry flock, previously identified as having avian influenza, has a strain of influenza, H2N2, that poses a low threat to the general population and to the poultry industry.
"Late this afternoon, we received notification of the strain from USDA's National Veterinary Services Laboratory in Ames, Iowa," said Wolff. "This is not the strain currently in Asia or Delaware. We believe this indicates no threat to human health and a low threat to the poultry industry. Based on this information, USDA is notifying our international trading partners to reassure them of the safety of U.S. poultry products."
"We have been working closely with the state Department of Agriculture from the very beginning of this situation," said Dr. Calvin B. Johnson, state Secretary of Health. "Based upon our information from Ames, Iowa, we believe no health risk to humans exists at this time."
The virus was discovered during routine surveillance testing for avian influenza. The flock had no clinical signs to indicating illness with avian influenza, mortality is being monitored, and no decrease in egg production has occurred. The farm in Mount Joy remains under quarantine, and all 16 poultry flocks in the surveillance zone are being tested for avian influenza.
"I would like to stress that consumers can be confident that meat and eggs are safe for human consumption," said State Veterinarian Dr. John Enck. "We will continue surveillance activities in the poultry industry."
Pennsylvania remains a leader in the nation in surveillance for avian influenza testing. Last year alone, more than 211,000 samples were tested for avian influenza.
"While any disease discovery is unfortunate, we can be assured that our avian influenza surveillance program is working," said Wolff. "Because of our strong program, we were able to find virus activity early, quarantine the facility and, we hope, ensure the health of Pennsylvania's poultry industry," said Wolff.