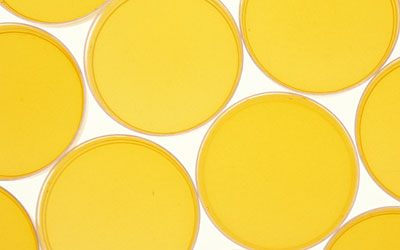 Despite the fact that two of the most important meetings for biotech were held early in the month -- The Biotech Industry Organization's BIO 2004 conference and the annual meeting of the American Society of Clinical Oncology -- the industry's performance on Wall Street in June was lackluster at best. "The media has been playing up the Iraq handover and the Fed's interest rate increase which kept investors on the sidelines for much of the month," noted G. Steven Burrill, CEO of Burrill & Company a San Francisco-based life sciences merchant bank. "The early handover in Iraq, the 3.5% drop in oil prices, the rise in personal spending in May, and the news that the Feds were planning a raise of just 25 basis points -- all good news -- were not enough to kickstart what's been a sluggish market all month," he said.
"Ironically, biotech is in better shape than ever with more companies, innovative products, clinical successes and scientific breakthroughs," Burrill pointed out. "The turnout at BIO 2004 broke all records and the news out of ASCO was tremendously exciting ... but biotech is still deeply affected by general market conditions, which have been less than favorable lately," he said. Indeed, the Burrill Biotech Select Index was flat in June rising less than 1%, compared to the NASDAQ and the DJIA, up 3% and 2% respectively. Still, the Burrill Biotech Select Index is ahead for the year-up more than 5% versus the DJIA, flat year to date and the NASDAQ, up 2% year to date.
"Although many indicators are improving, there is still uncertainty and that's likely to linger, at least to some degree, right up until election time," Burrill predicted. "But that doesn't mean that the value of this industry will stagnate," he added. "Drugs are still moving through clinical trials, FDA approvals are still being granted, new alignments are being forged, and IPOs are getting done, albeit on unattractive terms," Burrill noted. "Wall Street welcomed four new biotech firms in June -- Inhibitex (INHX), Metabasis Therapeutics (MBRX), Senomyx (SNMX) and Momenta Pharmaceuticals (MNTA)," he said.
Cambridge-based Momenta, which increased 30% from its $7 IPO price to close the month at $9.10 a share, specializes in engineering complex sugars to improve versions of existing drugs as well as to create new ones. Senomyx, based in La Jolla, CA, has identified about 350 human receptor genes related to the detection of smells and tastes. The company went public on June 22 but the opening share price of $6.45 dropped 4% in June. Metabasis Therapeutics, based in San Diego has also seen a drop in value of 1% since its IPO on June 16. The company is developing drugs to treat liver and metabolic diseases and has drugs in Phase II testing for diabetes and hepatitis B. Inhibitex, which IPO'd on June 4 at $7.00, gained 3% to close at $7.21. The Alpharetta, GA firm is developing antibody-based vaccines and drugs to combat Staphylococcus infections and has five products in the pipeline including an antibody-based immunotherapeutic for low birth-weight infants.
"We're still not seeing the kind of 'pop' the IPO investor likes to see," explained Burrill. "In the IPO market, investors aren't buying into companies so much as hoping to get a quick hit off the IPO. Save for a couple of notable exceptions such as Eyetech (EYET) which has gained 104% in value since it's IPO in January, the 2003-2004 IPO class has failed to stimulate the kind of frenzy that we saw in the 1999-2000 window," he said. "In June, the Burrill Biotech 2003-2004 IPO Index fell 4%, but was up 6% for the quarter and 17% for the year ... not bad for a year in which the DJIA and NASDAQ are nearly flat," Burrill noted.
"The 30 year old biotech industry is beginning to mature," said Burrill. "The growth at BIO 2004 in San Francisco attracting some 17,000 participants with representatives from 61 countries, 49 US states and 10 Canadian provinces is partial evidence. That's in contrast to the last time BIO met in San Francisco in 1995 when we considered the turnout of 2,700 to be an impressive one," he noted. "Regardless of the day to day vagaries of the market, biotech is thriving, and everybody wants a part of the action," Burrill continued. "More than 50 high-level officials from at least 15 countries outside the US attended BIO along with the governors of Florida, Iowa, Kentucky, Massachusetts, Minnesota, and Missouri ... that says it all," he added.
The Burrill Biotech Select Index remained flat during the month but is up 5% since the beginning of the year. Shares of Vertex Pharmaceuticals (VRTX) soared in June, ending the month up 23%. Vertex announced that it had discovered two new classes of compounds that, in laboratory studies, partially restore the function of the defective cell membrane protein that is responsible for the progression of cystic fibrosis. Vertex also said that it had signed an agreement with Mitsubishi Pharma to develop and commercialize VX-950, Vertex's investigational oral protease inhibitor for the treatment of hepatitis C virus (HCV) infection. Mitsubishi will make pre-commercial payments to Vertex to support clinical development of VX-950. Capping these successes, on June 22, Vertex and Merck entered into a collaborative agreement to co-develop Vertex's VX-680 experimental cancer drug that targets proteins called Aurora kinases, which are believed to help promote tumor growth. Under the agreement, Vertex will receive $20 million up front from Merck and an additional $14 million in research funding over the next two years to develop the compound. Vertex could also receive up to $350 million in milestone payments if VX-680 is successfully developed against one or more cancers.
Shares of Geron (GERN) rose 9% in June with the announcement of positive results from a PhaseI/II clinical trial of its telomerase therapeutic vaccine in metastatic prostate cancer. But shares of Abgenix (ABGX) dropped 22% despite the fact that researchers found panitumumab, an experimental cancer drug being developed by Amgen and Abgenix, reduced tumors by 50% or more in about 10% of colon cancer patients who previously failed to benefit from chemotherapy. This is comparable to reductions in patients treated with ImClone's Erbitux. Like Erbitux, panitumumab is a monoclonal antibody that works by blocking the epidermal growth factor. Unlike Erbitux which contains fragments of mouse proteins, it is fully human and could have a theoretical safety advantage that has not yet been demonstrated.
The Burrill Large-Cap Index rose 2% in June and is up 8% for the year. Affymetrix (AFFX) was the strongest performer in the sector as shares jumped 7% after the company raised its 2004 earnings outlook from 50 cents to 60 cents per share following a decision to convert a license agreement with Oxford Gene Technologies to a one-time payment of $62.5 million. AFFX shares ended the month up 11%. Shares of Human Genome Sciences (HGSI) rose 7% during the month based in part on the company's deal with Akzo Nobel for antibody production. Shares of Genentech (DNA) slid 6% in June despite positive test data on Tarceva, the cancer drug being co-developed by Genentech and OSI Pharmaceuticals (OSIP).
The Burrill Mid-Cap Index dropped 1% during June and is down 4% year to date. But, ZymoGenetics (ZGEN) shares rose 19% during June. Novo Nordisk exercised its option to extend its agreement with ZymoGenetics to exclusively license a limited number of proteins outside North America. Under the terms of this agreement, Novo Nordisk will pay ZymoGenetics $7.5 million each year for two years and will pay an up front fee and potential milestone and royalty payments upon selection of a protein. Exelixis (EXEL) shares also jumped in June, up 6% after the company filed a new drug application with the FDA for its kinase inhibitor, XL 999, and ended the month up 10%.
Shares of Enzon Pharmaceuticals (ENZN) fell 11% in June even though the company presented positive clinical updates on three oncology candidates at the American Society of Clinical Oncology (ASCO) annual meeting in New Orleans. Shares of Medarex (MEDX) also fell, ending the month down 13%. The company presented positive data for two of its fully human monoclonal antibodies in Phase II trials for Hodgkin's disease and metastatic melanoma, for which the experimental drug received orphan drug status from the FDA. Onyx Pharmaceuticals (ONXX) shares slid 10% after researchers reported that the Onyx-Bayer drug, BAY 43-9006, did not appear to help patients with advanced pancreas cancer when paired with established cancer drug, Gemzar from Eli Lilly. But Onyx's Bay 43-9006 has shown positive results in trials of patients with kidney cancer and advanced malignant melanoma.
The Burrill Small-Cap Index was down 6% in June and is down 4% since the first of the year. Dyax' (DYAX) shares rose 19% after the FDA allowed the company to resume clinical trials on a compound treating a rare genetic disorder. Shares had plunged 32% when the FDA temporarily suspended the trials in May until Dyax answered some questions about earlier animal tests. Ten days after the suspension was lifted, Dyax and Genzyme, Dyax' partner in developing the drug, announced that the drug had met its primary endpoint in the Phase II trial.
Shares of Pharmos (PARS) rose 22% in June as its neurological drug candidate, dexanabinol, a close chemical cousin of THC, moves into late-stage trials and could become the first drug to receive FDA approval for traumatic brain injury.
Kosan Biosciences (KOSN) shares plummeted 27% after Kosan and its partner, Roche Holding, said that they were halting mid-stage clinical trials of their experimental treatment for colorectal cancer, citing an unexpected toxic build-up in patients. Introgen Therapeutics (INGN) saw shares fall by 35% after Wall Street expressed concern that the company's experimental cancer drug may face more hurdles than previously expected. Shares of Neurogen (NRGN) also fell sharply, ending the month down 20%; after the company said that it will likely drop development of its experimental drug for adult rheumatoid arthritis after it fared poorly in a mid-stage clinical trial.
The Burrill Genomics Index managed to gain 3% in June but is 10% below its value at the beginning of the year. CuraGen (CRGN) reversed its downward trend and ended the month up 20%. The Company announced a license and collaboration agreement with TopoTarget A/S to develop and commercialize PXD101, a novel histone deacetylase (HDAC) inhibitor for the treatment of solid and hematological cancers. CuraGen also announced that it has licensed Seattle Genetics' proprietary ADC technology for use with CuraGen's proprietary antibodies for the treatment of cancer. Caliper Life Sciences (CALP) shares continued to slide, ending the month off 12%; and shares of Lynx Therapeutics (LYNX) were down 23% at the end of the month.
The Burrill Agbio Index gained 2% in June and is up 7% year to date. Shares of Terra Nitrogen (TNH) ended the month up 34%. Shares of Monsanto (MON) rose during the month to end up 10%. The company reported a higher than expected quarterly profit due to strong sales of herbicide and genetically modified seeds. Other companies in the index didn't fare as well: Eden Bioscience (EDEN) lost its May gain and then some, ending the month down 23%; and Large Scale Biology (LSBC) continued steadily downhill, ending the month down 10%.
The Burrill Industrial Biotech Index rose 6% in June, up 5% for the year. Shares of W.R. Grace (GRA) gained a whopping 97% in June. The Company also filed a motion in bankruptcy court seeking authorization to acquire Alltech International Holdings, a global manufacturer and supplier of chromatography products. Hercules (HPC) shares also rose from their May doldrums to end June up 15% but shares of Synthetech (NZYM) dropped 2% in June after the company announced fiscal 2004 results of a net loss of 12 cents per share compared to a 2003 net loss of 3 cents per share.
The Burrill Diagnostics Index was up 1% in June and is up 8% year to date. Shares of Cepheid rose 25% at the end of the month as the company announced that it had executed a non-exclusive in vitro diagnostics products patent license agreement with Roche which provide Cepheid with rights under a portfolio of Roche PCR-related patents to make, use, and sell products in the field of in vitro human diagnostics on a worldwide basis. Biosite (BSTE) shares rose 13% in June partially from a small lift after the FDA gave the company clearance to market its diagnostic device for shortness of breath. Shares of Myriad Genetics (MYGN) fell 10% after the company placed 3.4 million additional shares of common stock on the market at the beginning of June.
The Burrill Nutraceuticals Index was down 2% in June but is up 19% since the beginning of the year. Forbes Medi-Tech (FMTI) shares rose 25% as the company announced that it had achieved a major milestone towards New Zealand and Australian approval of Reducol(TM) for use in low fat milk. Reducol(TM) is a plant sterol based cholesterol-lowering agent for use in functional foods and dietary supplements.
While shares of USANA Health Sciences (USNA) climbed on record 1st quarter sales, ending the month up 12%; record 3rd quarter revenue didn't help Natural Alternatives International (NAII) which saw its share value plunge 23% in June. Natures Bounty's (NTY) shares also dropped in June, ending down 20%, based on its announcement of lower sales for its Direct Response and Vitamin World operations in April and May. Martek Biosciences (MATK) shares dropped 12% in the month after the company reported second quarter earnings that were below what Wall Street had expected. The company said that a fire in May at one of its factories would cut revenue in the current third quarter and also affect fourth quarter production. Ending on a positive note for Martek was the announcement that GSK Consumer Healthcare has launched a powdered drink mix containing Martek's DHA in India. The product, Mother Horlicks, is formulated to meet the needs of pregnant and breast-feeding mothers.
The Burrill Biotech 2003-2004 IPO Index fell 4% in June but was up nearly 6% for the quarter and 17% year to date. Pharmion (PHRM), up 249% since its IPO and 16% for the month, received approval in Turkey for its product Thalidomide Pharmion used to treat multiple myeloma after the failure of standard therapies as well as to treat a severe complication of leprosy. The company announced on July 1 that it has priced an offering of 4.6 million shares at $48 a share.
Eyetech, up 104% since its IPO, recently submitted an NDA with the FDA to use the drug Macugen to treat macular degeneration. The FDA has given Macugen fast-track status as a potential treatment for wet age-related macular degeneration. Alnylam (ALNY), up 26% for the month, and Merck announced a multi-year deal that will focus on age-related macular degeneration and other ocular diseases caused by abnormal growth or leakage of small blood vessels. Under the terms of the agreement, Alnylam will receive an initial cash payment from Merck and is eligible for additional payments depending on results of the project. Other winners in the index include Genitope (GTOP), up 10% in the month, Memory Pharma (MEMY), up 29%, Barrier Therapeutics (BRTX), up 17%, and Momenta Pharma, up 36% (from IPO).
Market uncertainty contributed to the many losers in the index. CancerVax (CNVX) shares lost 29% of their value in June despite the fact that the company presented positive Phase I/II clinical trial data at the ASCO meeting on its novel cancer compound that targets the EGFR pathway. Myogen's (MYOG) shares dropped 26% even as the company prepared the start of Phase III trials of its enoximone capsules in patients with advanced chronic heart failure. Finally, shares of Dynavax Technologies (DVAX) also dropped 28% in June although the company announced the initiation of the first in a series of Phase II/III trials for their hepatitis B (HBV) prophylactic vaccine in Asia.
Burrill & Company is a life sciences merchant bank, focused exclusively on companies involved in biotechnology, pharmaceuticals, diagnostics, human healthcare and related medical technologies, wellness and nutraceuticals, agricultural technologies, and industrial biotechnology (biomaterials/bioprocesses).