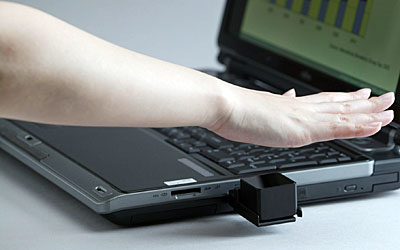 Fujitsu has launched its new compact and higher performance PalmSecure biometric authentication device. Leveraging the dynamic capabilities of the original model, this second generation product boasts a smaller form factor and a significant increase in the authentication speed, as well as other enhanced features.
The palm vein scanner offers high authentication accuracy; ease-of-use and application versatility; high level of security and reliability, since palm veins are internal to the body and thus extremely difficult to forge; and strong level of user acceptance due to the contactless, non-invasive scanning.
The smaller form factor of the latest version will provide greater flexibility in applications ranging from ATMs and room access security systems, to PC login systems and other solutions that require highly secure authentication.
"We firmly believe that palm vein authentication will become the de facto standard for advanced biometric security worldwide, and we're aiming to capture a significant share of the expanding global market with this product," said Fujitsu's Joel Hagberg.
10,000 sensors already installed in banks and universities in Japan. Acceptance is expected in a variety of industries in the U.S.
The new Fujitsu PalmSecure can be connected directly to the USB port of a notebook PC, or embedded into desktop PC keyboards. For developers, the sensor will also be bundled with a comprehensive Software Development Kit (SDK), which will include sample applications and authentication performance measurements.
Fujitsu develops device technologies including biometric security solutions.