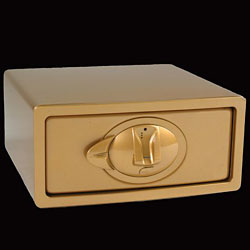 Elsafe has installed the world's first publicly accessible biometric safe in the Presidential Suite of The Waldorf Towers, a Conrad Hotel in New York. The safe was specially designed and created by Elsafe to exacting specifications by Hilton Hotels Corporation and The Waldorf Towers management, to honor Elsafe's one-millionth safe installation worldwide.
This special edition safe is a modified version of Elsafe's award-winning Infinity Biometric model, which utilizes the most advanced biometric access technology and is operated with the user's unique fingerprint. In addition to Elsafe's proprietary security features, the safe has been customized with a special gold-plated exterior finish that is intended to blend with the traditional decor of the room.
The luxurious 4-bedroom Presidential Suite at The Waldorf Towers has rarely been photographed by the media, yet has accommodated every U.S. Commander-in-Chief since Herbert Hoover, as well as many heads of state and other distinguished guests since its unveiling in 1931. The elegant Georgian-style decor is accented with numerous historical artifacts, including one of JFK's rocking chairs and General Douglas MacArthur's personal desk.
"As our factory approached the one millionth safe benchmark, we began searching for a fitting place to install it," said Alvin Berg, president of Elsafe. "We feel this famed suite at The Waldorf Towers, with its rich history and exclusivity is the ideal place for this special safe, and we are proud that it will be used regularly by many prestigious guests. I am confident that Elsafes provide an unparalleled level of security in all of the one million hotel rooms they are now installed in around the globe."
John Foley, Vice President of Sales for ASSA ABLOY Hospitality, added, "This is an important milestone for Elsafe, and it serves to reconfirm our position as the industry's leading supplier of in-room safes." Currently, Elsafe has nearly twice the installed base of their nearest competitor in the marketplace. Their biometric model is also scheduled to be installed at the new Conrad Miami, scheduled to open in 2004.