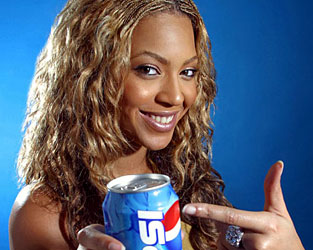 Beyonce Knowles, the lead singer of the multi-platinum selling trio Destiny's Child and big-screen star of "Austin Powers in Goldmember" has joined the Pepsi family. The new agreement includes the development of a national ad campaign and potential concert tour sponsorship.
Knowles' new relationship with Pepsi calls for creative collaboration on two new TV commercials. Pepsi also will have the option to sponsor a solo concert tour, which Knowles is considering for 2003.
"Beyonce is a multitalented entertainer who has achieved tremendous success and popularity in both music and movies," said Dave Burwick, senior vice president and chief marketing officer of Pepsi-Cola North America. "We're excited to be working with Beyonce to capture her unique style in a special Pepsi way."
"I've been a fan of Pepsi's TV ads for as long as I can remember," said Knowles. "I'm thrilled to be joining so many talented entertainers who have created memorable Pepsi moments over the years. Many of them have inspired me, and I'd love to do the same for the next generation of artists out there."
The relationship between Knowles and Pepsi will go beyond TV to include radio and Internet ads, point-of-purchase materials and consumer promotions.
"Beyonce's popularity resonates with a remarkably broad audience," said Randy Melville, vice president-multiculturalism and strategic initiatives for Pepsi-Cola North America. "We look forward to doing extraordinary work with Beyonce, reaching out to a diverse range of consumers and communities across the country."