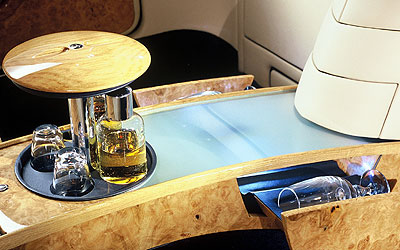 Bentley Mulliner is the specialist personal commissioning department of Bentley Motors. The name of Mulliner has been synonymous with the finest coachbuilding traditions for over two centuries, while its association with Bentley stretches back to the earliest days of the mark. Then, as now, the combination of Bentley and Mulliner means using only the finest handcraftsmanship to realize the dreams of its customers, by offering levels of personal service, design, engineering and craft skills unapproached by any other company.
Bentley Mulliner's scope is nearly as wide as its customers' imagination. It can create cars with palatial interiors, or fully functioning mobile offices with enough computing and telecommunications firepower to keep even the busiest executives in finger-tip control of their businesses. It builds cars on a range of different wheelbases, can extend the roofline upwards, and can protect its occupants with an armoring system that is able to withstand prolonged assault from some of the most powerful hand-held weapons on the market. The ultimate expression of Bentley Mulliner capability is the State Limousine presented to Her Majesty the Queen in 2002 to celebrate her Golden Jubilee. A new design from the ground up, it serves to show that there is no practical limit to the scope of Bentley Mulliner's abilities.
'We are not limited by a list of available options,' says director of Bentley Mulliner, Richard Charlesworth, 'we offer a tailoring service that can create a truly unique car. When other manufacturers say the same, what they can mean is that it is possible to select a combination of optional extras that has not yet been chosen by anyone else. When we use the word 'unique' we mean our customers have features created by us for them, and designed into their cars. These may have never been used on any other vehicle and may never be again.'
Bentley Mulliner currently employs around 130 world-class experts including coach-builders, trimmers, cabinet makers, electronics specialists and fitters. All work in a dedicated workshop within Bentley's Crewe factory that includes its own wood mill and trim shop, as well as steel fabrication and tool making areas. A limited number of features can be installed in the main factory as cars pass through the standard production process, but usually, once a Mulliner car's basic structure has been assembled, it passes over to the Mulliner workshop for completion. The time taken to create a Mulliner Bentley clearly depends on the extent of the customer's wish list. An extended wheelbase Arnage with a high level of unique cabinetry and technological infrastructure could easily take upwards of 6000 man-hours to complete. By contrast, a mass produced limousine from a mainstream manufacturer might be built by robots in less than one hundredth of the time.
That said, Bentley Mulliner is just as comfortable with less extensive commissions - many owners simply want a few small touches to personalize their car, and to put their own signature on it. The popularity of this almost infinitely flexible approach is proven by the fact that half of all Bentley Arnages benefit from some degree of Mulliner attention. It is too early to say what proportion of the new Continental GT coupe will also be worked on by Mulliner's craftsmen but Bentley Mulliner is developing a range of features to pique the interest of these largely first-time Bentley customers.
Mulliner first sprang to prominence in 1760 when it won a contract to build coaches for the Royal Mail in Northampton. By 1900, HJ Mulliner, named after its then owner, Henry Jervis Mulliner, moved the coachbuilding headquarters to Brook Street in the fashionable Mayfair district of central London, and began to supply bodies for the increasing number of 'horseless carriages' that could be seen on the streets of the capital.
The first Mulliner-bodied Bentley was built in 1924, less than three years after the first Bentley had been delivered, and was exhibited at that year's Olympia show. Mulliner continued to provide bodies for Cricklewood and Derby Bentleys before the war and thereafter cars from Crewe. Its most famous creation, however, was the R-Type Continental of 1952, the fastest four seat sports car of its era, and the inspiration for today's Continental GT. Indeed of all the Bentleys in the company's history, it is safe to say that the R-Type Continental stands alongside the original 3-litre and Speed Six as the most important and influential of all cars to wear the winged 'B'.
Rolls-Royce and Bentley Motor Cars bought Mulliner in 1959, merging it with the Park Ward concern to form its own coachbuilding division, called Mulliner Park Ward in 1961, and it is this company from which today's Bentley Mulliner is directly descended. The company remained in London, building the likes of the Phantom VI and Corniche, before moving to Crewe in 1993. In 2002, in recognition of the ever-increasing importance of coachbuilding to Bentley, the rapidly expanding organization was renamed Bentley Mulliner and charged with answering the ever more varied and challenging demands of the 21st century Bentley customer.
It's an approach that seems to be working: last year saw Bentley Mulliner increase its turnover by 105 per cent.
When faced with personalizing a car that, at the very least, will cost the customer a substantial, six figure sum, Bentley Mulliner does rather more than offer a list of options with boxes for their customers to tick. Though some items will be chosen by many customers, the in-house skills of the Mulliner craftsmen and women truly come into their own when creating something from scratch.
"We really enjoy involving our customers in the creation of their cars. We can show them things we've done before and make suggestions, but Mulliner customers tend to be individuals with a very good idea of what they want. Our job is to turn that idea into reality. It's like commissioning a new house - we're the architects, we have the skills, the knowledge and the facilities but, ultimately it is the customer's dream we're here to realize." said Bentley Mulliner director, Richard Charlesworth.
There is nothing routine about even straight-forward sounding features such as a wooden gear-selector. This is not some mass-produced item from a catalogue and stamped with the Bentley logo - it is a hand carved fillet of solid wood, lovingly crafted by Mulliner's woodworkers. Each one takes 12 hours to complete. A hand-stitched leather steering wheel is 18 hours in the creation, while window curtains, sewn together from silk and cotton, take a fortnight to make and two further days to fit.
Sometimes a customer's suggestion will start a trend. "One of Bentley's best American customers asked for a special stainless steel fuel filler cap with enameled Bentley wings to be made for his car. We'd not done one before but were delighted to take up the challenge. He was very happy with the outcome, and we realized it could have an appeal for other Bentley customers. He was happy for us to offer it to others and since then it has proven very popular." It is hard to imagine any other car company not only agreeing to create such an item to satisfy a customer, but then also, with the customer's blessing, offering it to other clients.
Other popular Mulliner options include uprated in-car entertainment, a bottle cooler behind the rear center armrest and cocktail cabinets. For added privacy anything from electric blinds and curtains to a division between the driver and rear seat passengers is possible. A car fitted with a division, curtains and a 13in drop down DVD screen with cordless headphones is effectively a private, mobile cinema.
Broadly speaking, if it can be built and it meets legal requirements, there is no limit to how customers can equip their Bentleys. Trevor Gay, sales manager for Bentley Mulliner says, "We can certainly do more individualizing than any other car manufacturer. For nearly 80 years Mulliner has been personalizing Bentleys, and an even longer tradition of employing the finest craftsmen and women who are able to turn their talents to creating extraordinary features for Bentley owners."
There will always be certain customers who want an extreme specification, particularly where paint and upholstery color is concerned and, within reason, Bentley Mulliner will always try to accommodate. As Gay says, "at the end of the day it's our name that's on the car so we have to have the final say."
Bentley Mulliner craftsmen and women have also upholstered cars in ostrich and buffalo hide, but would decline any request to use material from endangered or unsustainable material. That said, there are many ways of creating a unique interior without resorting to unethical plundering of scarce resources. "Some customers will have a favorite tree in their garden and want it to provide the wood for their interior. It's not cheap because we need to do safety and durability tests on all new woods, but if we can do it, and if the wood is not from a rare or protected species, then we will."
Recently, Bentley Mulliner has become renowned for special cars it has created for exhibition at the world's great motorshows and then for sale to a private client, the most recent being the Arnage limousine shown at the Geneva show. Featuring a 450mm extension to the wheelbase and an especially deep 'D' pillar, this new car provides rear seat passengers with complete privacy, while also radically reinterpreting the styling of the Arnage.
The interior of this new limousine has been deliberately kept as clean and simple as possible, the only notable feature included being DVD screens in the back of the front seats, which customers can view to gain an idea of the many different ways the cabin of such a car could be developed. The car has been created effectively as a blank canvas from which the customer can create his or her own unique interior.
Most car manufacturers in the High Luxury Sector offer saloons either with a standard or long wheelbase. By contrast, and thanks to Bentley Mulliner, the Arnage can be built to a number of different lengths. Even in standard form, with a 3116mm wheelbase as used by both the Arnage T and Arnage R, the cabin offers spacious accommodation for four adults. The Arnage RL adds a further 250mm to this figure, dramatically increasing the amount of interior room, particularly in the rear, allowing passengers to stretch out in sumptuous luxury.
Or you could perhaps order a 450mm extension, an option popular among those needing a car for state or ambassadorial purposes, particularly as the car can also be fitted with a roofline raised by 100mm to maximize visibility out of and into the car. The vast majority of such cars will be chauffeur driven, and this wheelbase allows the fitment of a division between the front and rear of the car without compromising passenger comfort at all.
But that's not all. The longest Arnage that Bentley Mulliner has made to date has a 728mm extension between its wheels. It was one of these cars, finished with a unique, solid wood interior, a 22inch LCD entertainment screen and a wealth of delightful design touches that adorned the Bentley stand at the 2002 Paris show. The Arnage then went on a global tour, during which a further ten were ordered by Bentley customers with their unique requirements integrated.
But even the Paris motorshow Arnage does not represent the ultimate extent of Bentley Mulliner's capabilities. Indeed, Bentley Mulliner has many years of experience in creating cars that can be thought of as genuine one-offs, including sports cars, limousines and even 4x4s. Unique in appearance inside and out, over 150 of these cars in 28 styles have been commissioned, built and delivered in the last decade.
But the biggest challenge came when, in 2002, Bentley Motors headed a consortium of British motor industry partners that built a new State Limousine for presentation to Her Majesty the Queen on the occasion of her Golden Jubilee. Bentley Mulliner was responsible for the design, commissioning, chassis engineering and build of the limousine, and it is now the primary source of transport for the monarch during state occasions.
The limousine was designed not to provide the ultimate in luxury travel for the head of state, indeed its cabin is quite simple and restrained, but to provide elegant and effective transport for the Queen and her companions in all possible environments. It features a considerable glass-house in order that the Queen can see and be seen by the public, while the rear doors are hinged at the rear, cut into the roof and swing through almost 90 degrees, allowing Her Majesty effectively to stand up and walk out of the car. The car was designed in full consultation with the palace, and the final specification agreed with and approved by Queen Elizabeth herself. Upholstery is in blue leather apart from in the rear cabin where the Queen chose a grey West of England cloth.
Unless you knew specifically what to look for, there is no way a casual observer would spot an armored Arnage. For instead of taking a standard car and adding the additional protection to it, Bentley Mulliner designs its armored cars from the ground up, with the armoring as a fully integrated part of the process. It not only makes the cars more discreet but, perhaps more importantly in this instance, more reliable and therefore safer, too.
Also, Bentley Mulliner's attention to detail means that all systems affected by the weight of the armor are upgraded according to need - in particular this affects the suspension, brakes and stability systems. This means that not only does an armored Arnage have all the passive safety from attack that you'd expect from such a car, but that its active safety credentials are equally impressive. The result is no less than should be expected from Bentley Mulliner: a proper armored car, not a standard car that has been armored.
As with all areas of Bentley Mulliner's operation, there is almost unlimited scope here for the customer to determine the specification. For a start, all Bentley Mulliner armored limousines comply with the B6 or VR6 world standard. This means it must offer its occupants protection from sustained assault from weapons such as a NATO 7.62mm self-loading rifle or Kalashnikov AK47. To ensure this, test shots are fired repeatedly at parts of the body where an attack could otherwise prove lethal. The tests focus not simply on the windows, doors and bodywork but also potential weak spots like the seals around the windows and the edges of the door frame to make sure the cabin remains impregnable. The car will also withstand the blast from four DM51 hand grenades detonating simultaneously, two directly above and two underneath the car.
Owners can also specify items such as a self-contained oxygen system for protection against gas attack and exploding hinges that will blow a door out if the occupant needs to escape in a hurry. Defensive driving courses are also available for owners and chauffeurs.
All Bentley Mulliner customers are encouraged to come to the factory both to commission their car, and to see it being built. For Bentley Mulliner this gives an opportunity really to understand the customer's need, and to put him or her fully in the picture regarding any issues that may arise from a preferred specification. From the customer's point of view, it represents a unique chance not just to talk over their requirements, but also to see Bentley Mulliner staff in action.
Customers are welcome to come and see a place where skills, decades in the making, are handed down through generations. Techniques for working wood, metal and hide that are now almost unknown throughout the rest of the automotive world, are alive and thriving at Crewe. We have craftsmen and women who have been at the factory for over 30 years, practicing the same skills as they did a generation ago. Tables and cabinets are made with the same love, care and dedication as shown by the finest furniture makers. To them, their work is not their job, it is their vocation.
It is no secret that Bentley is an evolving business with a dazzlingly bright future ahead of it. Where once it was an entirely traditional car maker, now it stands at the cutting edge of 21st century technology, offering the market some of the most advanced and sophisticated cars ever to be designed.
Some might think that this process would diminish the role of Bentley Mulliner, but in reality quite the reverse is true, and the fact that turnover has more than doubled in the last year clearly supports this view. Bentley sees no conflict in building a car with all the technical capabilities that the most advanced science can produce, while equipping it also with true craftsmanship. Art and science are not, and never have been mutually exclusive, and it is Bentley's intention to fight on both fronts.
Indeed, it is imperative that it does, as the increasingly technology-based thrust of the market provides a company like Bentley Mulliner with a clear opportunity. While other car manufacturers rush to abandon the traditional skills that define the Bentley Mulliner approach, Bentley continues to embrace them with both arms, convinced that an ever growing number of discerning customers will feel Crewe is now the one home of truly bespoke automotive handcraftsmanship.
And whatever they choose, they can be sure of their cars exclusivity. Bentleys are made in small quantities and, of these; around half will go to Mulliner for modification. So even if your Bentley receives only a modest level of tailoring, you can still drive away assured that, at most, a handful of cars on the planet come close to matching your specification.