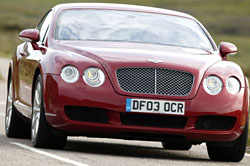 Citing "exceptional security at speed, the ultimate exhilaration of getting there and the distinction, elegance and comfort in luxury that is an absolute," the editors of Robb Report have selected the Bentley Continental GT as the magazine's 2004 Car of the Year.
Scheduled to be formally announced at the 2004 Greater Los Angeles Auto Show on December 30, the award is presented annually to an automobile, formally introduced in the previous year, whose technical designs, styling and performance position it as the world's preeminent sports or luxury car.
In a cover piece authored by Editor-at-large Paul Dean, the Continental GT was praised as "an ungoverned, 190-miles-per-hour supercar and the fastest four-seat family car in the world." Attesting to the Continental GT's prowess, Robb Report lauds its 12-cylinder, twin turbocharged engine, which "pumps out an eager 552 horsepower and a highly useful 479 lb ft of torque."
Robb Report editors were equally impressed by the Continental GT's opulent interior, an eight-decade trademark of the fabled British car manufacturer. "No high-tech kevlar, faux suedes, or long stretches of brushed aluminum here," Mr. Dean writes. "Just those signature mirror-matched grains in the woods and veneers, peerless and unblemished hides, and carpets more expensive than most shoes, all of which creates an aura of modest indulgence."
Mr. Dean's views were echoed by Robb Report Senior Vice President, Editorial Brett Anderson, who said that the Continental GT's introduction "is a truly significant development in automotive history. Our selection of this motorcar from a field of 12 exceptional sports and luxury automobiles takes into account not only its qualitative performance, but the significance and magnitude that it brings to the marketplace," he stated.
Bentley Motors, Inc. CEO Alasdair Stewart said the award "is one of the most important honors this car has received, and helps to further strengthen the Bentley brand position. Reaction to the Continental GT has exceeded expectations, with more than 2,900 orders having arrived from people who haven't even had the opportunity to drive it."
Selection of the Continental GT resulted from months of testing by a panel of experts that included Senior Vice President/Creative Director and automotive editor of The Robb Report Collection Robert Ross, Editor-at-Large Paul Dean, and Associate Editors Christian Gulliksen and Fluto Shinzawa.
In addition to the Bentley Continental GT, finalists in Robb Report's 2004 Car of the Year included the Audi RS6, BMW 645Ci, Cadillac XLR, Jaguar XJR, Lamborghini Gallardo, Maybach 62, Morgan Aero 8, Porsche Cayenne Turbo, Porsche 911 Turbo Cabriolet, Rolls-Royce Phantom and Subaru WRX STi.
Scheduled to hit newsstands on January 20, Robb Report's February issue provides discriminating automotive enthusiasts with an in-depth exploration of a wide array of new models and emerging technologies. Coverage also includes after-market products for the finest class of luxury cars and the most sought-after and elegant vintage vehicles.
Robb Report treats issues and trends affecting the affluent market, with coverage of exclusive events and features on exceptional automobiles, motorcycles, aircraft, art, jewelry, watches, fashion, travel, homes, wines, spirits, and cigars.