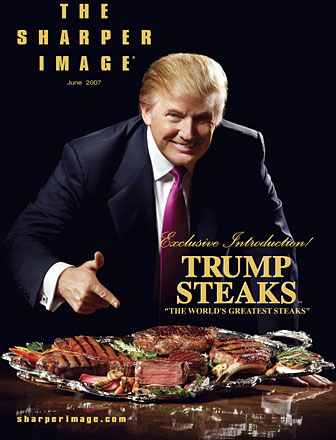 Sharper Image features Donald J. Trump on the cover of its June 2007 catalog, announcing the company's exclusive introduction of Trump Steaks. "The World's Greatest Steaks" are exclusively Certified Angus Beef brand USDA Prime, a category for which less than one percent of all the beef produced in America qualifies.
"For years, people have told me the steaks in my restaurants are incredible," said Donald Trump, "so it makes sense that we expand our business to offer Trump Steaks to consumers everywhere. The Sharper Image is one of my favorite stores with all kinds of fantastic products and is the perfect venue for announcing to the world that Trump Steaks are ready to be enjoyed at home with friends and family."
Available exclusively Sharper Image, Trump Steaks are raised exclusively from Midwestern-raised, corn-fed Certified Angus Beef stock at its optimal age for producing the most flavorful beef. Certified Angus Beef brand USDA Prime is the top of the grading scale for traits that determine beef's tenderness, juiciness and flavor; it can be awarded only after a rigorous independent evaluation. Once optimally aged, Trump Steaks are cut by master butchers to exacting standards for trim and thickness. At their peak of aged perfection, Trump Steaks are individually sealed, flash frozen, packed in dry ice, and shipped to customers in a black-and-gold Trump Steaks presentation box.
The Trump Steaks Collections include the: Trump Steaks Classic Collection for $199, Trump Steaks Country Club Collection for $349, Trump Steaks Resort Collection for $499 and Trump Steaks Connoisseur Collection for $999, each with different delicious combinations from The Porterhouse, the king of all steaks, The Filet Mignon, the most tender cut of beef, The NY Boneless Strip, the most popular cut of beef, and The Cowboy Bone-In Rib Eye Steak, the incredibly flavorful cut from the rib roast. In addition all Trump Steaks Collections include the juiciest sirloin Trump Steaks Burgers.