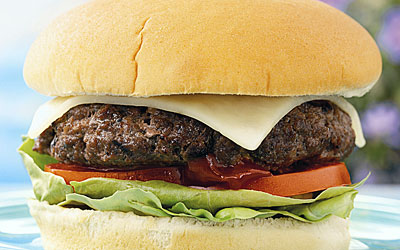 On Super Bowl Sunday, the best football players in the country will meet to battle for the championship title. For the rest of us, the real battle will be preparing a Superbowl feast that will have friends and family cheering for more. To add a little sizzle to the standard party fare, fire up the grill and treat guests to a feast that will make you the MVP of the party. Try this Cheeseburger of Champions recipe from the best-selling Weber's Real Grilling cookbook by Jamie Purviance.
If your is a bit rusty, the pros at Weber have created their top tips to get you in shape.
Make sure to preheat your grill before you cook. After you've lit the fire, shut the lid, and let it heat for ten minutes.
Don't poke your meat with a fork. Poking allows precious juices and flavor to escape, drying out your food.
Grilling times listed in the recipes are approximate. Allow for more cooking time on cold or windy days, or at higher altitudes. Your best defense against overcooked food, no matter what the weather condition, is an instant-read thermometer. Use the thermometer to check for doneness, but never leave it in the food.
1 1/2 pounds ground chuck (80% lean)
1 tablespoon ketchup
1 teaspoon dried basil
1/2 teaspoon dried thyme
1/2 teaspoon kosher salt
1/2 teaspoon Worcestershire sauce
1/2 teaspoon Tabasco sauce
1/4 teaspoon freshly ground black pepper
4 thin slices Monterey Jack cheese
4 hamburger buns
4 lettuce leaves
4 tomato slices
Prep time: 10 minutes
Grilling time: 8 to 10 minutes
1. In a medium bowl, using your hands, gently combine the ground chuck with the ketchup, basil, thyme, salt, Worcestershire, Tabasco, and pepper. Gently shape into 4 patties, each about 3/4 inch thick.
2. Grill the patties over Direct High heat until medium, 8 to 10 minutes, turning once. During the last minute of grilling, place a slice of cheese on each patty to melt, and grill the hamburger buns, cut side down, until toasted. Assemble the cheeseburgers with lettuce, tomato, and ketchup and/or mustard, if desired. Serve warm.
Makes 4 servings.