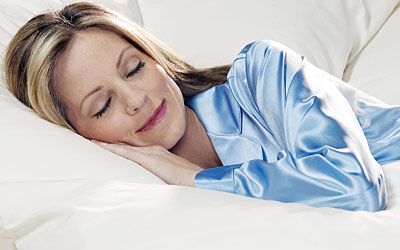 Allergy sufferers have come a long way since the days when doctors told them to wrap their pillows with plastic trash bags to contain tiny dust mites and their allergens. Two leading companies in high-tech textile manufacturing and consumer health products have now teamed to create the ultimate in allergen barrier bedding.
The Breathe Right Luxury Allergen Barrier Bedding encasements for mattresses and pillows bring together the expertise of White Knight Engineered Products and CNS, the Breathe Right Company. White Knigh specializes in protective apparel for clean rooms in the pharmaceutical and microelectonics industries.
"This was a perfect collaboration and this new allergen barrier bedding represents the pinnacle of fabric engineering for dust mite encasings," says John Fry, vice president, marketing and sales for National Allergy Supply, which is America's largest supplier of non-drug products for allergy, asthma and sinus sufferers. "It's virtually a perfect barrier, blocking dust mites and their allergens coming through from your mattress or pillow. And the comfort and breathability is unbelievable -- it's silky soft, light and the fabric even wicks away moisture from your skin."
Nearly 60 million Americans suffer from allergies or asthma, and clinical studies have shown that the use of allergen barrier bedding encasings can substantially reduce symptoms such as wheezing, sneezing and itchy eyes. Dust mites are microscopic -- smaller than a grain of sand -- and can flourish in the warm, humid conditions of bedding. But the new Breathe Right encasings trap dust mites and their allergens with a tightly woven microfiber fabric and bound seams. Unlike competitive products, dust mite allergen can't find its way through the zipper because the Breathe Right product features a unique interior barrier.
"Ideally, we'd all start with brand new pillows and mattresses, encase them in Breathe Right bedding products and prevent dust mites from taking up residence in our bedrooms," says Angel Trimble, marketing director for White Knight, which manufactures the bedding. "But if you're not starting from scratch, Breathe Right products will protect you by entrapping the dust mite allergens. With our experience containing particles measured in tenths of a micron for clean rooms, it almost seems like a breeze to keep out dust mites."
Leah Stevenson of CNS says the allergen barrier bedding "offers peace of mind as well as a better night's sleep for allergy-sufferers." It's all the result, she says, of a "partnership that leverages the strengths of all the parties involved. Breathe Right has great brand awareness built around breathing and sleeping better, White Knight has the manufacturing expertise and National Allergy Supply has an extensive distribution system."
National Allergy Supply offers nearly 1,000 drug-free products for allergy, asthma and sinus sufferers.