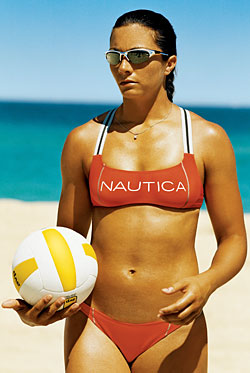 Nautica has again partnered with the Association of Volleyball Professionals (AVP) as the Official Apparel Sponsor of the 2005 Pro Beach Volleyball Tour. In addition to the resigning of its 2004 male and female leading AVP athletes to multi-year agreements, Nautica has made a substantial commitment to increase its on and off-court presence with the addition of two new players to its roster to wear and promote the brand.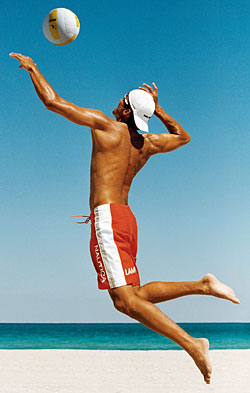 Nautica sponsored athletes include: 2004 Olympic Gold Medallist Misty May, 2004 Olympic Bronze Medallist Elaine Youngs, 2000 Olympic Gold Medallist Eric Fonoimoana and 2004 Olympian Qualifier Dax Holdren. New to the Nautica roster are 2004 MVP and Best Offensive Player Mike Lambert and 2004 Rookie of the Year George Roumain.
As Official Apparel Sponsor, Nautica will outfit referees, announcers, staff and volunteers in specially designed sportswear for the AVP Tour. Nautica will also support the AVP in tournaments nationwide with on-site signage and on-site activities celebrating its new Navigate Life global marketing platform. All events are broadcast on NBC Sports, Fox Sports Net and Outdoor Life Network and will showcase Nautica's new commercial created exclusively for the AVP series. The 30 second spot, called Navigate Your Dreams, features Nautica's roster of volleyball professionals.
"As we begin our third year partnering with the AVP, we're confident that our commitment to the sport of beach volleyball and support of its world-class athletes will continue to be an important association for our brand," said Denise V. Seegal of Nautica. "Beach volleyball is an authentic lifestyle sport for Nautica, it's athletic, water related and provides an emotional connection to the active, outdoor way of life that resonates with our consumers."
"We are extremely excited to continue our great relationship with Nautica," said Leonard Armato of AVP. "They have been a great partner for us and we look forward to exploring new ways to grow from each other's successes. The brand fit is phenomenal and the vision and enthusiasm of the people involved mean that we will be able to achieve great things together."
"The Olympic sanctioned sport of beach volleyball, combined with our AVP Tour apparel sponsorship and our endorsement of leading male and female athletes in the sport, is a powerful way to connect Nautica to the millions of consumers who share our core brand values," said Chris L. Fuentes of Nautica. "It complements our new global marketing platform 'Navigate life' launched this spring to reflect that Nautica consumers strive to balance families, fun, careers and escapes."
Misty May had her most accomplished season last year when she and partner Kerri Walsh captured the Gold medal at the 2004 Athens Summer Olympics. She and Kerri have been named AVP Team of the Year two years in a row and Misty was named Best Offensive Player in 2004. Misty is going into her third year on the AVP Tour, but her sixth playing professional beach volleyball.
Named AVP Best Offensive Player, AVP Most Valuable Player and part of AVP Team of the Year with his legendary partner Karch Kiraly, Mike Lambert is fondly known in the volleyball community as Lambo or The Hawaiian Curtain. This is Lambert's is third professional season on the AVP Tour and he is quickly becoming one of the sports most promising players.
Eric Fonoimoana struck Olympic Gold at the 2000 Olympic Games in Sydney and has been a dominant force on the AVP Tour for the past 12 years. A true community activist, Eric has dedicated much of his winnings and time off the beach to his foundation Dig for Kids which helps kids in inner cities excel in school and volleyball.
Elaine Youngs was named 2002 AVP MVP, Best Offensive Player and Best Blocker, but her greatest accomplishment was winning the Bronze Medal at the 2004 Summer Olympics in Athens alongside her former partner Holly McPeak. The two made history as the first women to medal in beach volleyball.
George Roumain is one of the most physically dominant players on the AVP Tour. In 2004, George, along with partner Jason Ring captured their first tournament title at the Huntington Beach Open. George is going into his second year on the AVP Tour after a successful indoor career.
An eight-year veteran of the AVP Tour, Dax Holdren has captured an event title in each of the past six seasons. He names his 2002 victory at the Manhattan Beach Open with former partner Eric Fonoimoana and qualifying for the Athens Olympics with Stein Metzger his two greatest accomplishments.
Nautica provides lifestyle apparel and accessories.
AVP Pro Beach Volleyball Tour produces professional beach volleyball events.