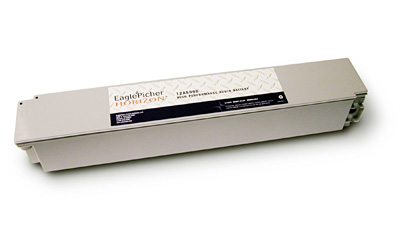 EaglePicher Horizon Batteries announced the release of its 12A5000 model sealed lead acid battery at the Spring Break Nationals competition in Daytona Beach, Florida. Designed to revolutionize the high-performance audio industry, the EaglePicher Horizon model 12A5000 battery features the highest power density of any sealed lead acid battery on the market today.
Gary Biggs, United States Autosound Competition International (USACi) Grand Master, has chosen EaglePicher Horizon batteries for his new vehicle, which will be featured at the show. "We not only replaced 54 conventional batteries with 12 EaglePicher Horizon batteries in our competition Bronco, we also boosted our performance," said Biggs. "Combine space savings with incredible power density, and we have the potential to set new records in audio performance."
Available for sale now, the advanced 12A5000 battery can generate a five-second burst of over 5,000 amps of power. In addition, the battery packs high power into a small form factor, freeing up valuable space for audio equipment.
EaglePicher Horizon Batteries develops, manufactures, markets and distributes breakthrough, high-performance sealed lead acid battery solutions to industries in which superior power and reduced weight are important.