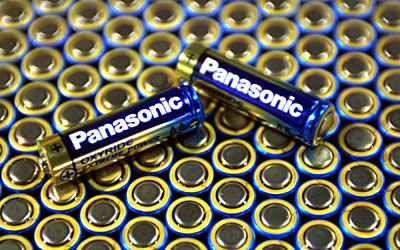 Panasonic Oxyride Extreme Power batteries offer consumers a new technology specifically designed for the digital era. Representing the most significant development in primary battery technology since the introduction of alkaline in 1965, Oxyrides are a powerful, durable and disposable energy source that last up to twice as long as traditional alkaline batteries at a similar price.
"Digital electronic devices have generated a strong demand for small, lightweight and high-performance batteries," explained Brian Kimberlin of Panasonic. "In response, Panasonic developed the next generation battery to keep pace with the needs these portable, high-drain electronics."
Based on the success of Oxyride in Japan, the batteries are slated for delivery on store shelves this summer in all the major markets.
The new Oxyride cell maintains voltage on a high and stable level, which is optimal for powering digital devices such as digital still cameras, handheld games and portable audio products. In independent lab testing, new AA-size Oxyride cells lasted twice as long as alkaline cells in digital cameras, resulting in double the amount of pictures and more rapid flash recovery. The batteries averaged 1.5 times more power than Panasonic's alkaline cells for more playing time in other high-drain digital and electronic devices, such as MP3 and CD players.
The Oxyride Extreme Power battery was developed with technology based on a combination of newly developed materials and an advanced manufacturing process. The newly adopted cathode materials (Oxy Nickel Hydroxide and newly developed manganese dioxide and graphite) allow an increase in the quantity of the pouring amount inside the battery and a controlled mixing ratio, leading to higher voltage and current. Additionally, a new vacuum pouring technology enables the quantity of electrolyte in the battery to be increased, resulting in higher durability. With the combination of these technological developments, Panasonic's new Oxyride Extreme Power battery allows users to enjoy the benefits of improved power performance and longevity.
"Oxyride is the first real change in consumer batteries since the alkaline," adds Kimberlin. "Imagine the incredible changes in portable products over the past 40 years -- now the batteries have finally caught up."
Oxyride Extreme Power Batteries will be sold in new consumer-friendly packaging that will be used throughout the Panasonic Battery line.
Panasonic markets a wide range of alkaline, lithium, and rechargeable nickel-metal hydride batteries for photo and consumer electronics.