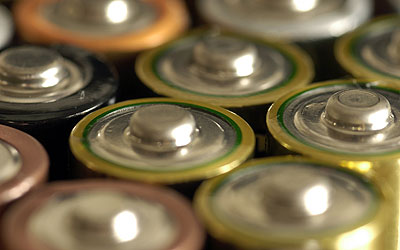 Electric Fuel Corporation today announced that the latest addition to its line-up of disposable, ready-to-use back-up Instant Power batteries for digital cameras will support popular cameras that take 4 AA-sized batteries. This is the first time that the company has positioned its high-power zinc-air fuel cell technology in a product category that puts it in direct competition with alkaline batteries.
The new battery is compatible with more than 50 digital camera models from market leaders Olympus, Kodak and Nikon, and provides a new level of convenience for vacation and business travel as well as everyday home use.
Electric Fuel's Instant Power batteries significantly outperform alkaline batteries in high-tech electronic devices such as digital cameras, often lasting 10 times as long, or even more, in high-power cameras that integrate LCD screens, electronic flash and mechanical zoom lenses.
The pre-charged 3300 mAh Instant Power batteries will instantly bring digital cameras to life, and ensure that users will not miss key photo opportunities when their on-board batteries die. Instead of waiting for rechargeable AA batteries to complete a charging cycle or switching to non-rechargeable alkaline batteries that will last as little as an hour because of the high current drain of digital cameras, users will be able to plug in an Instant Power auxiliary battery and take up to 4,000 photos using the same power source.
Each Instant Power battery has a built-in belt clip for easy carrying and a 3-foot cord that connects through the camera's DC jack. The battery comes in a reclosable foil pouch that allows the user to extend battery life after initial use.
Existing Instant Power models support Sony and Nikon digital cameras that take rechargeable lithium-ion batteries, and are also available for Sony and JVC camcorders.
Yehuda Harats, Electric Fuel President and CEO, said, "This product is designed to help the most frustrated digital camera owners -- those who rely on AA batteries for power. Even the best alkaline batteries do not have enough power to give these camera owners a satisfying user experience. Digital camera users who try Instant Power batteries will find a whole new level of convenience and customer satisfaction.
"What's especially significant for Electric Fuel is that we can finally put our revolutionary zinc-air technology in head-to-head competition with alkaline batteries. Anyone who has burned through a set of 4 premium AA batteries after taking only 20 or 30 pictures will be delighted with the hundreds and hundreds of photographs that Instant Power batteries will provide. This is an example of how Instant Power batteries could be used to power the next generation of high-tech electronics, in much the same way as alkaline batteries helped popularize older products such as portable tape players and flashlights."
Electric Fuel is introducing the new Instant Power digital camera battery at the Consumer Electronics Show in Las Vegas this week, where the Company is exhibiting the full range of Instant Power batteries, chargers and accessories.
Electric Fuel Corporation is a world leader in primary and refuelable Zinc-Air fuel cell technology, pioneering advancements in consumer electronics, electric vehicles, and defense and safety products. Electric Fuel's Instant Power batteries and chargers are based on the Company's patented, cutting-edge Zinc-Air fuel cell technology, and are on sale at retail outlets throughout the United States, Canada, Europe and Israel. The company has corporate and sales offices in New York and London, England, and manufacturing and R&D facilities in Israel and Alabama.