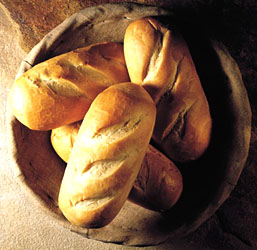 Today Burger King Corporation announced that Burger King restaurants are baking baguette-style bread for the new great-tasting, low-fat, Fire-Grilled Chicken Baguette sandwiches. The bread, baked throughout the day, combines a new fresh taste with the easy availability of thousands of Burger King restaurants and drive-thrus across the country. This product sets a new standard of freshness and innovation for consumers throughout the country who prefer fire-grilled foods.
"Our focus on continually bringing consumers high-quality, great-tasting food has produced something unexpected from Burger King restaurants -- fresh-baked baguette bread," said Brad Blum, chief executive officer of Burger King Corporation. "This delicious bread is a perfect complement to the fresh fire-grilled taste of Burger King. We look forward to offering additional menu options with our fire-grilled foods and this new fresh-baked bread."
The Fire-Grilled Chicken Baguette line includes three delicious sandwiches, which use premium sauces, exotic spices and fresh-baked bread to naturally create their fresh new flavors without added fat. These new great- tasting sandwiches are the Santa Fe Chicken Baguette -- topped with flavorful fire-grilled red and green peppers, onions and fire-roasted Southwest Sauce; the Savory Mustard Chicken Baguette -- featuring an exotic mustard sauce, crisp lettuce and juicy tomato; and the Smoky BBQ Chicken Baguette -- with fire-grilled peppers and onions and gourmet BBQ sauce with 12 different herbs and spices. The Santa Fe Chicken Baguette will be available in restaurants beginning September 18, 2003. The Savory Mustard Chicken Baguette will be in restaurants October 13, 2003, and the Smoky BBQ Chicken Baguette will be in restaurants October 27, 2003.