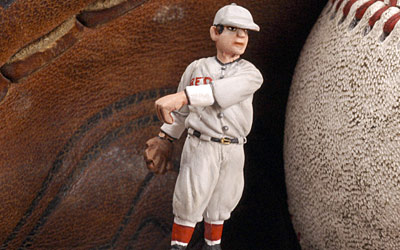 The Topps Company announced today a charity auction for the first Babe Ruth Sports Clix figure, and a chance to own a part of history. Only fifty of these extremely rare figures will be made, and the miniature up for auction is number one of fifty. The miniature Ruth, who stands a little over an inch tall, features the Sultan of Swat in his 1917 Red Sox uniform, the year he started more than thirty regular-season games.
This figure, hand-sculpted and hand-painted by the award-winning artists at WizKids, was completed on October 20th, 2004, the night of the Red Sox' historic game seven victory over the Yankees. Topps conceived the figure six months ago, little suspecting that by returning the Babe to Boston on the day of the Sox win, they may have contributed to lifting the curse of the Bambino.
This Masterpiece figure is the ultimate piece for any baseball collector, and is a must-have for Red Sox fans. It is one of only fifty pieces created for the 2005 MLB Sports Clix game, the only baseball collectible miniatures game. The miniature Babe is being auctioned on eBay and all proceeds from the auction will go to the Boys and Girls Club of America.
Founded in 1938, Topps is a leading creator and marketer of distinctive confectionery and entertainment products, including trading cards, sticker and album collections, and collectible games.
WizKids produces collectable miniatures games (CMGs) and constructible strategy games (CSGs).