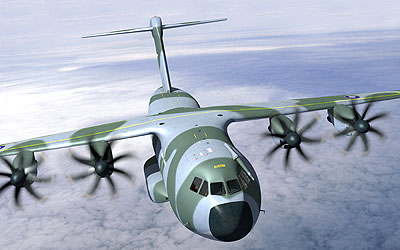 EADS has selected Green Hills Software to supply Integrity-178B, an ARINC 653-1 operating system, and MULTI development tools for its Mission Management Computer.
The Modular Mission Avionics Computer M2AC, now under development by EADS, is a configurable, modular avionics computer intended for a variety of airborne platforms including the new Airbus airlifter.
The program was launched when 180 A400M airlifters were ordered by seven European nations in May 2003. The aircraft will begin flying in 2008.
"Green Hills Software is pleased that EADS Deutschland GmbH has selected our Integrity-178B operating system to meet the demanding reliability requirements of Europe's new air transport," said Dan O'Dowd of Green Hills.
Green Hills Software's in-house engineering and certification staff is solely responsible for the development and compliance of the Integrity-178B RTOS, an ARINC 653-1 operating system. The software has been developed from the ground up to meet the requirements of hard real-time flight critical systems that require certification and support for multiple software safety levels.
At its core, the microkernel design and advanced partition scheduling technology enable it to meet the demanding performance and partitioning requirements of modern security-critical systems. The microkernel's system awareness allows the OS to uniquely support advanced access control mechanisms that are applicable to all kernel objects such as semaphores and tasks. The uncompromising RTOS architecture enables system designers to robustly partition critical aircraft functions using different partitioning options.
The Integrity operating system's reliability, security, and maturity have made it the real time operating system of choice for a growing number of aircraft. Whether applications are developed in Ada, C, C++ or a combination of all three, Integrity provides a reliable, secure platform for hosting airborne software.
Green Hills Software develops real-time operating systems and software development tools for 32- and 64-bit embedded systems.